Rudy the Red Hawk, the Gateway Technical College mascot, is a valuable tool for building college spirit and engagement. Use of the mascot is reserved for marketing activities and events that promote school spirit. The mascot logo should not be used as a substitute for the college's academic identity or logo. All names associated with the mascot–including Rudy the Red Hawk and the Gateway Technical College Red Hawks–are reserved for select spirit-focused promotions and elements. The mascot name or logo should not be used to identify academic or administrative departments, units, offices, initiatives or events.
To learn about the history and symbolism of Rudy the Red Hawk, please visit gtc.edu/redhawks.
Official Gateway Red Hawk Logo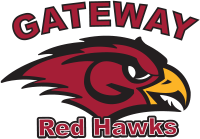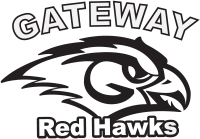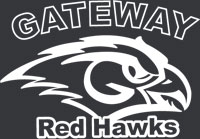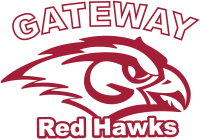 Mascot Character Illustration


The Marketing and Communications department has versions of the Red Hawk logo and character illustration in various formats (EPS, WMF, JPG, PDF, Tif). Please submit a Marketing and Communication Support Ticket to request a Red Hawk logo or illustration. 
Visual Expression

The Gateway Technical College mascot is visually expressed in three ways: the mascot himself (the performer), the mascot logo and the character illustration.
Red Hawk Logo Colors

The official Gateway Red Hawk logo colors are PMS 201 (burgundy), PMS 1235 (gold), black and white. These colors should be used whenever possible. All black, all white and all burgundy (PMS 201) are also approved one-color options to use as needed.
The official Gateway Red Hawk logo colors for web are R-186 G-12 B-47 (burgundy), R-255 G-184 B-28 (gold), R-33 G-33 B-33 (black) and R-249 G-249 B-249 (white).
No other colors or combination of colors should be used with the Red Hawk logo. 
Logo Sizing

As a general rule, the Red Hawk logo should be a minimum of 2 inches wide in print and web publications. The logo should never be smaller than 1 inch wide by .75 inch tall, unless pre-approved. 
Appropriate Red Hawk Uses

The following are appropriate scenarios for the Red Hawk logo
Marketing and promotion of school-spirit focused events (new student orientation, Gateway Days, etc.)
Signage, sculptures and other public display elements (as approved by Marketing)
Select admissions and recruitment-focused materials
Materials promoting official student clubs and organizations (as approved by Marketing)
In accordance with Administrative Policy H-190, Rudy the Red Hawk logo can be included in email signatures.
Additional Usage Guidelines 

Mascot visual elements have limited application and should not be used for academic and department identification (e.g. college of, campuses, departments, offices, units or programs).
The mascot logo should be used in its entirety including approved text unless pre-approved by the Marketing and Communications department. Please do not dismantle or use elements of the logo.
As appropriate and necessary, the mascot character illustration may carry or wear items related to Gateway's academic programs of study only. Any alteration of the mascot character illustration must be officially illustrated and usage approved by the Director of Marketing and Communications.
Always keep the logo in proportion. Do not stretch or skew the logo. 

To review the guidelines for referring to Rudy the Red Hawk in text, please refer to Gateway's Editorial Style Guide.
To request a mascot appearance, logo or character illustration, please submit a Marketing and Communications Support Ticket.