From tablecloths and signage to email blasts and rack cards, the Marketing and Communications department has a variety of opportunities to help you promote Gateway and our academic programs of study. 
Recruitment Event Support

Displays and materials are available at no cost for you to use when speaking about the college to a group or having a table at an event. Brochures range from general Gateway publications to rack cards that detail specific services and programs of study. The Marketing department also has table top banners, floor banners, displays, tablecloths, tents and more available for you to use.
We recommend a Gateway table drape, Gateway floor banner, literature pieces and stand as well as pencils and candy as a great start for your event table. If you need assistance gathering materials and planning your display, please submit a Marketing and Communications Support Ticket. You can also request items directly using the order forms below: 
Brochure order form (no cost)
Outreach Event item request form (no cost)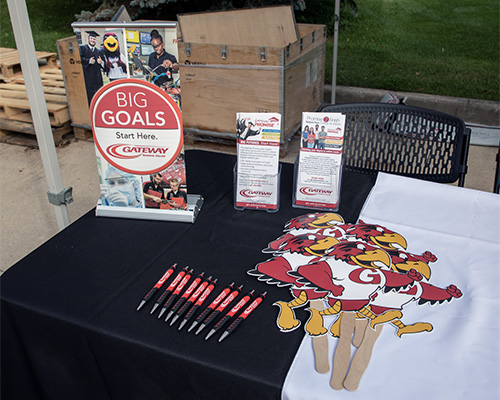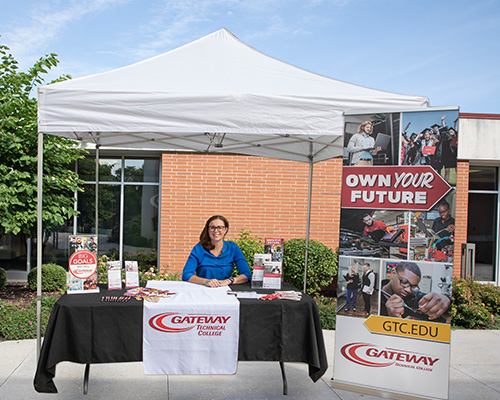 Program of Study Marketing

In addition to marketing the college as a whole, the Marketing and Communications department provides a strong mix of marketing and recruitment support for all college programs, including prospective student communications, website, social media and marketing campaigns as well as event marketing. Images, testimonials and videos of our programs and program students are also featured extensively on the college's materials.
CRM Communications

Our recruitment CRM communications plan includes mail, email, text and phone calls that outreach to students from inquiry to admitted and enrolled in classes. The communications cover a variety of topics – from why choose Gateway to program information and details on applying and paying for college. Program-specific examples include: 
Prospect program of study email brochure
Mailed prospect dean's letter and program rack card 
Program faculty prospect email (coming 2024)
Program graduate testimonial (coming 2024)
Admitted but not enrolled registration push 
Admitted student dean's welcome letter 
In addition, we work with our Academic Advising team to send a variety of retention-focused communications to program students each semester via email, text and mail. 
Program Marketing Materials

The Marketing department works with all associate degree, technical diploma and apprenticeship programs to develop marketing materials, including: 
Program webpage
Rack card
Testimonials
Program photo 
Program video 
These materials are used to market the college's programs to prospective students at recruitment events, on social media, in college advertising and marketing materials and on our website. We reach out to programs annually to ensure the content is accurate, up-to-date and best represents the program. 
In addition, our marketing communications specialists will often visit classes and campus events to take informal photos/videos of students working hands-on to post on Gateway's official social media channels. To request that a marketing and communications specialist visit your class, please fill out a Marketing and Communications Request.
Direct Communications, Advertising and Event Marketing

The Marketing department has an overall marketing and communications plan for the college that includes a mix of target audiences, communications channels and marketing strategies such as billboard advertising, direct mail, digital advertising and keyword digital marketing for the college's academic programs of study. The department also works closely with the college's Recruitment and Admissions teams to market, connect with prospective students and support college recruitment initiatives and events. This outreach includes text, email, mail, digital and other advertising for events and initiatives.
Recruitment and Admissions Initiatives and Outreach

Marketing and Communications works closely with our Recruitment and Admissions teams as they work to recruit and enroll new students at Gateway. Recruitment and Admissions have a variety of initiatives, outreach and events to connect with prospective students including: 
The Recruitment team welcomes faculty to get involved in the activities mentioned above. If you are interested in getting involved, please contact Bao Lee, director of recruitment, at leeb@gtc.edu.