From creating a marketing plan to providing event support to producing your business cards, Gateway's Marketing and Communications department is here to provide you with any assistance you need to promote your program, event or group. This page is your one-stop shop for all marketing resources, such as ticketing requests, displays, program marketing and templates. To browse all services offered by Marketing and Communications, please visit our Marketing Services and Process page. 
Tickets/Requests

Filling out a Marketing and Communications Support Ticket is a great way to get your marketing idea started. This can be anything from designing a poster to a social media post or campus TV screen promotion and everything in between. We are happy to work with you to make the most out of your idea or expand it into a full campaign. 
If you would like to discuss your marketing needs, develop a marketing plan or recruitment materials, please contact Director of Marketing Kristin Gunia at guniak@gtc.edu. If you have a more specific/short-term marketing request, please submit one of the following types of support tickets: 
Please submit a detailed Marketing and Communications Support ticket if you already have a specific marketing piece or idea in mind.
Please submit a detailed Marketing and Communications – Website and Intranet ticket if you need support related to the website or Intranet.
To request printing or duplication of existing materials email printcenter@gtc.edu.
Displays/Outreach Materials/Brochure Requests

Marketing and Communications provides materials such as displays and brochures for you to use when speaking about the college to a group or having a table at an event. Literature pieces range from general Gateway publications to rack cards that detail specific programs. There are also table top banners, floor banners and tablecloths for checkout. If you need assistance gathering materials and planning your display, please submit a Marketing and Communications Support Ticket.   
To view list of available brochures visit our order form.
Event Support

Marketing and Communications is happy to provide support for your event including email marketing, posters, flyers, signage and day-of photography and videography. Please contact the Director of Marketing or fill out a Marketing and Communications Support Ticket to get started. 
On-Campus Signage

Gateway considers its signage approach to be a significant component to a positive Gateway experience. Our campus signage is designed to enhance the image and provide a service to our customers by assisting them to find the locations and services they require. 
Contact the Manager of Communications and Community Relations at 262-564-2536 with permanent campus signage requests.
Program Marketing

The Marketing and Communications department works with program chairs and deans to ensure we have accurate and compelling information to better market the program and accurately advertise what students will learn. If you have a particular need or question about how to best market your program, please contact the Director of Marketing. The Marketing and Communications and College Access departments have a variety of marketing opportunities for all programs. View the Program of Study Standard Marketing Sheet.
Program marketing materials include the program webpage, e-brochure, print brochure, photos, videos and testimonials. Our program marketing list is a great starting point to see available items to market your program.
In addition, our Marketing Communications Specialists will often visit classes and campus events to take informal photos/videos of students working hands-on to post on Gateway's official social media channels. To request that a Marketing Communications Specialist visit your class, please fill out a Marketing and Communications Support Ticket.
Templates and Forms

Email Signature Images
Marketing PowerPoint Templates (.zip file download)
Publicity Release Form
Group Publicity Release Form
Literature Order Form
In-stock Promotional Item Order Form
Name Tags/Business Cards/Stationery

All Gateway name tags, stationery and business cards must be ordered through and designed by the Marketing department. Please fill out a Marketing and Communications Support Ticket to order business cards or stationery. The college has a standard set up for business cards and stationery.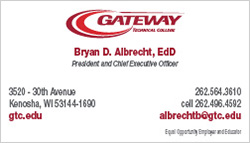 Sample Business Card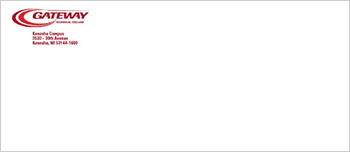 Sample Stationery