Gateway's Marketing department is here to help you promote your program, event or group by offering a wide variety of services. Here are a few of the ways to get started. 
Marketing Requests

Filling out a Marketing and Communications Request is the best way to get your marketing idea going!. This can be anything from requesting a poster to a social media post or campus TV screen promotion and everything in between – we are here to help you determine the best way to promote your event, program or service and  are happy to work with you to make the most out of your idea.
To submit a Marketing request, go to OneLogin > Tech Central Support. Click "New ticket" on the left and then select "Other requests." From here you can choose to submit a Marketing and Communications Request or a Marketing and Communications - Website & Intranet Request.
You can also view a complete list of the Marketing Services available to you.
Here are several templates and forms you may find helpful.
Email Signature Images
Marketing PowerPoint Templates (.zip file download)
Publicity Release Form
Group Publicity Release Form
Literature Order Form
In-stock Promotional Item Order Form 
College Outreach Event Items Order Form 
Zoom background
Name Tags/Business Cards/Stationery

All Gateway name tags, stationery and business cards must be ordered through and designed by the Marketing department. Please fill out a Marketing and Communications Support Ticket to order business cards or stationery. The college has a standard set up for business cards and stationery.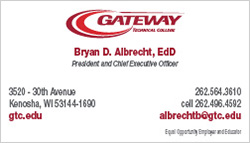 Sample Business Card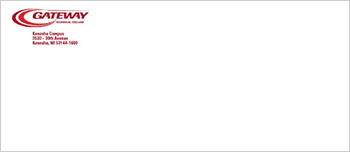 Sample Stationery