Department of Education Federal Student Aid ID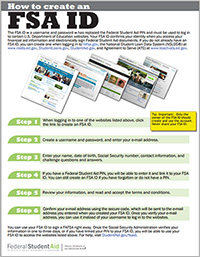 Obtain a Federal Student Aid (FSA) ID at fsaid.ed.gov.
Federal Student Aid is adopting the best practice of using a username and password instead of personal information.
The FSA ID:
Requires users to enter less information
Provides more secure access
Links to PIN information during registration
Offers self-service capability (name change)
Federal Student Aid (FSA) ID Additional Information
If you are a new user:
Registration requests the same required information as PIN
New users will be directed to the registration page to create an FSA ID
If you already have a PIN but need a FSA ID:
During account creation, the user will be asked for their PIN
As long as the PIN information matches their other information, the account will be linked to the FSA ID account
If the user links their PIN, they will have access to previous FAFSA submissions
Dependent Students
A dependent student and one of his or her custodial parents must each have their own separate FSA ID's to sign the FAFSA.  Do not share the Federal Student Aid ID with anyone. The student and parents should not share their IDs with each other, or with anyone helping them complete the FAFSA. The FSA ID serves as an electronic signature and provides access to personal records, so be sure to keep the FSA ID in a safe place. Sharing a Federal Student Aid ID may invalidate the FAFSA and other documents signed with the FSA ID.
Parents of dependent students will need their own FSA ID if they want to sign a child's FAFSA electronically. If parents have more than one child attending college, they can use the same FSA ID to sign all of their applications.  Although the student's parents may know everything needed to get a FSA ID or the student, including the student's Social Security number and date of birth, they should not get a FSA ID for their child or use it to sign the FAFSA on behalf of the child, as that is a form of identity theft.
The same Federal Student Aid ID can be used every year to sign the FAFSA electronically and to access federal student aid records online. The FSA ID can also be used to make online corrections to the FAFSA and to add schools to the FAFSA.
Other Uses for a FSA ID
A Federal Student Aid ID can be used to sign federal education loan documents and access other U.S. Department of Education tools and systems.
Other FSA PIN Information
Applicants and parents who are unable to get or do not have a FSA ID will have to print, sign and mail a signature page when completing the online FAFSA or sign and return the Student Aid Report (SAR) after it is received.
When filling out a FAFSA, students create a temporary password. The temporary password is not the same as a FSA ID.  Students can use the password only if they have already started a FAFSA, save it without finishing it, log out, and then want to log back in again later to finish it.