Submitted by

ColonyL

on December 13, 2013 - 10:50am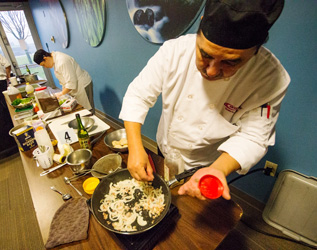 Gateway Technical College student Rolando Gomez
prepares food during the college's inaugural culinary
cookoff event, patterned after the popular "Chopped" show.
Gomez was a member of the winning team.
The culinary team of Angela Anderson (West Allis), Robyn Eisen (Trevor) and Rolando Gomez (Racine) won Gateway Technical College's inaugural cooking competition modeled after the show "Chopped."
The three beat out three other teams at the competition held in the SC Johnson Student Life Center area of Gateway' Racine Campus on Dec. 4.
Students were given a basket of food containing 2.5 pounds of pork loin, 1 pound of ground turkey, two persimmons, jicama, saki and chervil, from which they had to prepare a meal. They did not know what was in the basket ahead of time – they found out at 11:15 a.m. and teams had an hour and 15 minutes to plan and prepare a meal.
They competed in the middle of the center, or commons, area of the campus, and were watched by many students, instructors and members of the public.
They were judged by a three-member panel on plate presentation, creativity, teamwork, sanitation, food taste and basic kitchen and cooking skills.
First place winners received a digital cooking thermometer.
The competition can be viewed here: https://www.youtube.com/watch?v=CcN_Wf9ccFQ