Submitted by

WellsN

on June 24, 2013 - 9:29am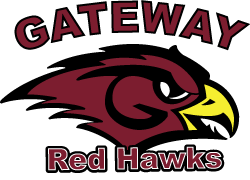 Gateway Technical College Board of Trustees members on Thursday voted to allow the college's new mascot to take flight, the Red Hawk.
The new mascot is the first for Gateway in memory and will be used to symbolize the college to its communities and through its students who take part in academic and career-related competitions throughout the state and nation.
The Red Hawk, called Rudy, sports a black "G" insignia embedded within the head's feather design. It is patterned after the red-tailed hawks which are seen at each of Gateway's three main campuses, in Kenosha, Racine and Elkhorn.
"Red-tailed hawks are noted for soaring high above the landscape, symbolic of the dedication and commitment Gateway students have in their pursuit of academic excellence," says Gateway President Bryan Albrecht.
Rudy the Red Hawk gear and related items will be rolled out at the beginning of the Fall 2013 semester, Sept. 3.