Submitted by

ColonyL

on May 17, 2013 - 1:40pm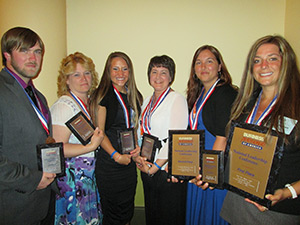 Student winners from left to right: Kasey Knudson, Kelly Kendra ,Holly Anderson, Elizabeth Klinzing, Magan Lawrence, Nicole Rugen
Seven Gateway Technical College students captured honors at the national leadership conference of the Business Professionals of America (BPA) held in Orlando, Fla.
Gateway students took first through third place in the following categories, competing against students from across the United States:
First place: Web Design Team: Kasey Knudson (Elkhorn), Kelly Kendra (Genoa City), Nicole Rugen (Delavan)
First place: Financial Math and Analysis: Mark Short (Kenosha)
Second place: Presentation Management Team: Elizabeth Klinzing (Elkhorn), Holly Anderson (Waterford), Magan Lawrence (Elkhorn)
Rugen also placed fourth in Graphic Design Promotion, Short placed sixth in Insurance Concepts and Klinzing took 10th in Interview Skills.
The event was held May 8-May 12. Students were judged by industry professionals who are able to also share their expertise with students.
BPA is the national career/technical student organization for students preparing for careers in the business field.
For more information, please contact adviser Tina Page at (262) 741-8326.