Submitted by

ColonyL

on December 20, 2013 - 1:49pm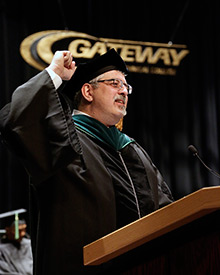 Gateway Technical College graduation commencement keynote speaker Dr. AJ Capelli tells graduates that learning is a lifelong endeavor -- whether it's learning career skills or going on to earn a four-year degree and beyond. Gateway held its commencement ceremony Dec. 19 at Indian Trail School in Kenosha, recognizing more than 450 graduates from its summer and fall terms.
Kenosha physician AJ Capelli, of Aurora Medical Center, told Gateway Technical College graduates at their commencement ceremony Thursday to celebrate their successes and realize that earning their degree is the first step of lifelong learning. They may decided to continue to hone their career skills or to continue their collegiate education.
"Always believe in yourself," said Capelli. "You can be, and do whatever you want, with this degree. This is not the end of your learning – this is the beginning."
The ceremony recognized 457 prospective candidates for graduation, nearly 200 graduates attended and another 800 friends and family attended the ceremony in the Indian Trail School Auditorium, Kenosha.
Bryan Albrecht, Gateway president, delivered the welcome address. Albrecht and members of the Gateway Technical College Board of Trustees presented degrees; Heather Bennett, graduate in Gateway's Human Services program, provided the student response; and faculty member Ginger Karaway led the ceremony opening and closing.
Dr. Capelli is medical director and on the medical executive committee for the Aurora Medical Group in Kenosha, a position he's held since 1994. He was also the medical director of quality/care management for Aurora Health Care-South Region from 1999-2004, and served as the Kenosha Medical Director to the Aurora/Compcare Health Network. 
The commencement ceremony can be viewed on Gateway's Web site, www.gtc.edu/graduation, beginning in early January.