Gateway, UW-Parkside link programs to give area students greater access to higher education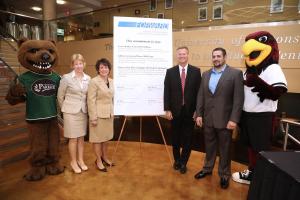 Gateway Technical College and the University of Wisconsin-Parkside are moving forward together in an effort to increase access to higher education and student success in their future careers. The two entities are strengthening the relationship they have been building in the past several years to align curriculum and make the transfer from Gateway to UW-Parkside a seamless one.
Gateway Technical College and the University of Wisconsin-Parkside renewed their promise on Sept. 24 to move "Forward Together" as they signed seven transfer – 2-plus-2 articulation – agreements allowing Gateway students who graduate from the seven programs to enter UW-Parkside as juniors. All but one of the agreements focused on business programs from both schools, and one transferred in to the UW-Parkside Art degree track.
Agreements in place include:
Credits Transferred

Accounting (AAS)

B.S. Degree with Majors in Accounting, Management Information System (MIS), and Business Management

(Business Management Major includes concentration options in General Business, Finance, Human Resources, and Marketing)

58

Marketing (AAS)
All concentrations

General Marketing
Business to Business
Marketing Communication

54
54
57

IT-Computer Support Specialist (AAS)

57

IT-Network Specialist (AAS)

59

IT-Network Specialist-Security Analyst (AAS)

55

IT-Software Developer

58

IT-Web Developer

56

Business Management (AAS)

57

Supervisory Management (AAS)

57

Graphic Communications (AAS)

B.A. Degree with a Major in Graphic Design (Art)

62

General Studies

General studies requirements; allows students to be enrolled at both colleges at once (dual enrollment)

30

Civil Engineering Technology (AAS) - Freshwater Resources

B.S. Geosciences-Environmental Geosciences concentration

61

Physical Therapy Assistant (AAS)

B.S. Applied Health Sciences, Pre-Physical Therapy or Pre-Athletic Training concentration

72
Gateway students wishing to participate in the transfer agreements should contact their program adviser.