2320  Renaissance Blvd. Sturtevant, WI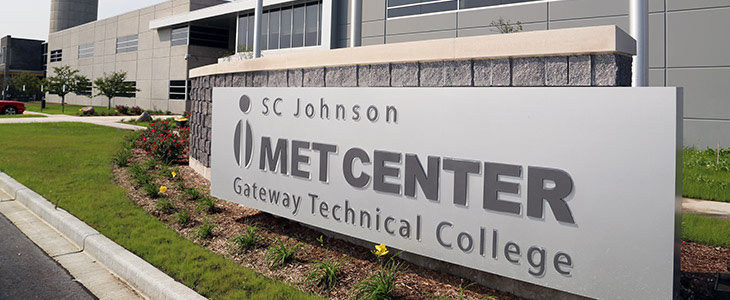 Gateway's SC Johnson iMET Center, formerly Gateway's Center for Advanced Technology and Innovation, has almost doubled the facility's learning space.  It hosts the region's first flexible manufacturing lab dedicated to training the manufacturing workforce. Short-term, customized, modular and bootcamp training in CNC machining, industrial maintenance, robotics, welding and fabrication, in addition to industrial trades apprenticeship training, is being offered at the SC Johnson iMET Center.
In addition to Gateway's Business and Workforce Solutions Division-driven programing, SC Johnson iMET continues to be home campus to numerous Gateway engineering technology and construction sciences programs.  SC Johnson iMET is also home to the Racine County Economic Development Corporation and Business Lending Partners.
Gateway Electrical Engineering Technology labs Room 234
Gateway Electronics and Electrical Engineering students use training equipment in the lab to learn the skills necessary for careers in electrical engineering technology, biomedical engineering technology, electrical engineering technology-sustainable energy systems, and electronics.
Construction Sciences Room 133
The classroom is used for courses including Gateway's Civil Engineering Technology-Highway (Public Works), Architectural-Structural Engineering Technology, Fresh Water Resources and Land Surveying Technology programs.
Auditorium
The auditorium, used by Gateway Technical College, RCEDC and other community organizations can seat 85 people.
Executive Conference Room Room 225
This SMART conference room seats 15 people around the table.
State-of-the-art facility and equipment
The flexible manufacturing lab includes equipment related to the following manufacturing processes:
CNC multiple-axis
machining
Precision grinding
Precision measurement
Robot programming
Fabrication technology
Welding
Rapid prototyping
Mechatronics
Industrial maintenance
Included in the manufacturing space will be classrooms and work areas providing an ideal environment for individual and collaborative project-based learning experiences.
Business and Workforce Solutions Training & Services
Business solutions: Regional businesses may find assistance in developing advanced manufacturing processes that will improve quality, productivity and profitability. In addition, the iMET facility and equipment will be available to local businesses (start-up and stage one manufacturing) that are unable to invest in their own production systems and have product development needs.
Certification Programs and services will align industry skills and professional certifications to ensure students and incumbent workers earn industry credentials supporting their training.
Apprenticeship - Industrial Trades including Carpentry, Electrical, HVAC, Maintenance Mechanic, Pipefittter, and Welder/Fabricator
Boot Camps including CNC Boot Camps, Welding Boot Camps, and Metal Fabrication Boot Camp
Business and Workforce Solutions' Certifications include Continuous Process Improvement Certificate, Advanced Leadership Certificate, Product Development Certificate, Lean Certificate
Technical Assistance including Business acceleration services and regional economic and labor market data.
Professional Development Workshops and Customized Training including Lean/Six Sigma, FANUC robot training, Snap-on Torque and Meter Certification, Vibration Analysis, Thermography, Predictive Preventive Maintenance, Mastercam Design & Basic Milling, Blueprint Reading, Measurement and Gauging, Root Cause Analysis, Project Management, Software Applications
RCEDC Facilities
The Racine County Economic Development Corporation (RCEDC) and their partners provide businesses with services needed to complete an expansion, relocation, financing, or workforce development project. Staff is committed to meeting the needs of Racine County businesses and companies interested in expanding or locating in Racine County.
Business Lending Partners—the business financing arm of RCEDC.