2320  Renaissance Blvd. Sturtevant, WI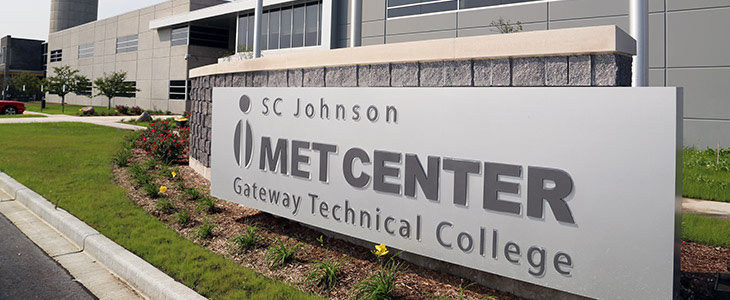 Gateway's SC Johnson iMET Center hosts the region's first flexible manufacturing lab dedicated to training the manufacturing workforce, provides an innovative maker space at its nationally known Fab Lab, serves as the center for a number of Gateway academic programs and serves as a catalyst to help area businesses, economic groups and entrepreneurs.
Academic Programs
Gateway's engineering technology academic programs are housed at the SC Johnson iMET Center, in Room 234, Room 126, Room 133 and Room 134. Labs and modern equipment used in the workforce today provide the means for Gateway instructors to provide hands-on skills training for students to successfully enter their career. Programs include Electronics, Electrical Engineering, Civil Engineering Technology-Highway, Architectural-Structural Engineering Technology, Fresh Water Resources and Geospatial Surveying Technician programs.
Fab Lab
Gateway's Fab Lab is a maker work space offering a wide range of computer controlled tools to allow for the design and prototype manufacture of nearly anything that can be conceived. Students, entrepreneurs and community members use this Fab Lab, which is linked internationally to Fab Labs across the world. Student groups from K12 districts in Southeastern Wisconsin engage in the lab as part of their science and engineering curriculum, too.
Equipment in the lab includes 3D printers, engravers, milling machines and scanners.
Tarnowski Hall
Flexible manufacturing lab
Tarnowski Hall contains the region's first flexible manufacturing lab, home to equipment and training for Gateway students and short-term customized training for the area's manufacturing workforce. The hall also serves as the training ground for the college's nationally known boot camp programs.
Equipment includes Miller welders, Snap-on tools and tool boxes, ABB and Fanuc robots, Rockwell Automation ControlLogix trainer, an AMTEC industrial troubleshooting trainer (one of only three in the nation), lathes, mills, programmable lathes and computer numeric control machining equipment.
Precision measurement lab
Sponsored by Starrett, this quality control lab houses instruction on modern precision equipment.
Business and Workforce Solutions Training and Services
Business and Workforce Solutions offers customized training to meet the needs of area businesses. It offers non-credit and credit training for individuals and businesses through employee training programs, business development assistance, professional development, and short-term customized training.
This division of the college can help businesses by offering such services as customized training, professional development workshops, apprenticeship, certification and customized boot camps.
Executive Conference Room
This SMART conference room, on the upper level with a bank of windows which overlooks Tarnowski Hall, seats 15 people around the table with room for twice as many around the edge of the room, as well.
Auditorium
This pit-style auditorium is available for use by community and business groups and can seat 85.
Racine County Economic Development Corporation
The Racine County Economic Development Corporation helps provide businesses with services needed to complete an expansion, relocate, finance and meet the needs of Racine County businesses and companies interested in expanding or locating in Racine County.