1001 S. Main Street, Racine, WI 53403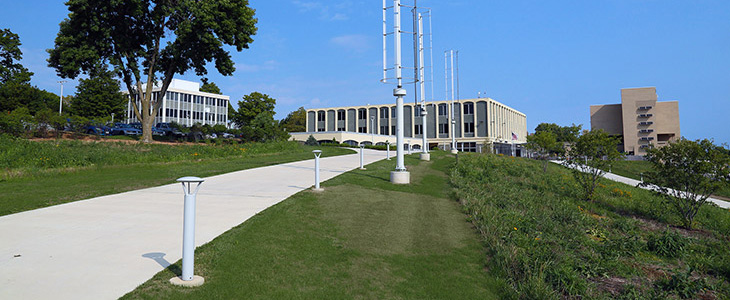 Lake Building Relocations to Racine Building - Summer 2017
First Floor Services MOVED to Racine building during construction in the Lake Building:
Disability Support Services: Room R215B
Learning Success Center: Room R215
Open Computer Lab: Room T302
Testing: Room R217
The Racine Campus, located in the historic downtown area, is the largest campus of Gateway Technical College. The beautifully landscaped college grounds offer a stunning view of Lake Michigan. The Racine site is composed of four buildings: the Lake Building, the Lincoln Building, the Racine Building, and the Technical Building. Hallways connect the buildings to one another.
Gateway has a rich and proud heritage in local and national career training education. Original state legislation established adult and technical education in 1911. As the first technical school in Wisconsin—the nation's first publicly supported technical institution—Racine Continuation School began that same year in downtown Racine as the name predecessor to Gateway Technical College. See Gateway history at gtc.edu/history.
Parking
Parking is most abundantly located on the east (Lake) side of the campus.  The largest lot is east of the Lake building and a smaller lot is located east of the Racine building, just outside the Conference Center.  Another sizeable lot is on the south side of the Lake building, a smaller lot to the West of the Racine building and street parking is sometimes available along Main Street.
The Racine Campus has food service, vending, Library, Student Services, Academic Support Center, Follett's Bookstore, open computer labs, and a community Conference Center.
Lake Building
The Lake building is Gateway's key building for student access. It includes Student Services which facilitates registering for classes, meeting with student counselors, and obtaining Gateway ID cards. It also hosts the SC Johnson Student Life Center which includes the Student Commons, dining area, and the Student Activity Center.  Also featured are Follett's bookstore, the library and the Academic Support Center
Library
The library (room L008) is a tremendous asset to the Racine Campus. The library offers numerous many materials for checkout, including books, videocassettes, DVDs, periodicals, and some audiovisual equipment. Students and faculty may request materials from any campus library and have them delivered to another campus of choice. Non-students may register for a library card at any campus library. Students and staff must use their Gateway IDs to access materials. Important features of the library include the following:
Computer facilities
Reference materials
Interlibrary loan
Leisure reading
Library instruction
Library hours vary by time of year. To learn more about the library, please visit: gtc.edu/library or call the Racine library at 262.619.6220.
The Academic Support Center (room L006) is located in the lower level of the Lake Building. It offers tutoring for students at no charge. It is available for the tutoring of students in various subjects including writing and studying skills. Please call 262-619-6216 for more information.
Student Services
At Student Services (room R300), students may register and pay for classes, receive their student IDs, attend appointments with student services experts, and receive information regarding admission, financial aid and scholarships. Please see gtc.edu/student-services or call 262-619-6300 for more information including hours of operation.
Special Needs
The Special Needs department (room L114) serves students who may have hearing, sight, learning, or physical disabilities. Please call 262-619-6500 for more information.
Student Commons
The Student Commons includes a coffee shop, food service and vending, areas for study, conversation seating, and computer access for checking e-mail.  The center also includes the Student Activity Center.  Located in the southeast corner of the commons, the Center includes tables for study or board games, a pool table, a foosball table and several video game stations.
Common Grounds
Common Grounds is an independent vendor located in the Student Commons. They offer beverages, sandwiches and snacks to students, faculty, and visitors.
Vending machines
Vending machines also provide various snacks and sodas.
Dining
Under the direction of the culinary arts instructors, lunches are prepared Monday through Thursday from 11 a.m. to 12:30 p.m. They serve international buffets on Wednesdays during the fall semester.
Lincoln Building
The Lincoln Building is located on the southwest corner of the Racine Campus.  It hosts the campus administration and many instructors' offices.
Technical Building
The five story Technical building is home to numerous educational programs.  The Technical building offers many remodeled labs featuring state-of-the-art technology that mirrors and even exceeds the industry standard:
Allied heath career programs
CNC
Industrial Mechanic
Welding
Barber-Cosmetologist
The View On 5
The salon offers the general public, students, and staff an opportunity to obtain salon services from Gateway Barber/Cosmetologist students at an excellent price. For appointments please call 262-619-6210.
Open Computer Labs
Open computer lab (second floor) is equipped with computers that have software to support Gateway program curriculum and have access to the internet. Every currently enrolled student has access to the computer labs. Open computer lab hours are posted outside each lab.
In addition to the open computer labs, computers are available in other areas such as the library, the commons and other locations.
Racine Building
The Racine building is home to the Follett's Bookstore, Adult Learning Center, Staff Development Center, the Business Resource Center/Racine BIZ Squad, and conference facilities.
Follett's Bookstore
Follett's Bookstore provides textbooks, school supplies, t-shirts, sweatshirts, and snacks to students, faculty, and visitors. Store hours are modified throughout the academic year according to student needs. Students may also purchase textbooks and materials online from eFollett.com. For more information, please call 262-619-6866 or visit gtc.edu/bookstore.
The Adult Learning Center
The Adult Learning Center (rooms R213 and R215) assists students who need help with their reading, writing, and math skills before attending college-level courses. It also equips adults to earn their GED/HSED certificates. For more information, please call 262-619-6216.
Business Resource Center/BIZ Squads
Each campus has a BIZ Squad which is comprised of multifunctional teams of business division students who, as an internship, work together to perform services and solve real-world business issues brought to the BIZ Squad by area businesses.
Conference Rooms
The Racine Campus conference center offers the following:
The Great Lakes Room, auditorium design, has a seating capacity for 125 people with a fire-code maximum of 175 people.
The Michigan Room has a capacity of 60-80 people, depending on room arrangement
Four other rooms, separated by dividers, each have a 30-person capacity. They can be combined into two larger rooms or one big room:
The Superior Room (R102)
The Huron Room (R104)
The Erie Room (R108)
The Ontario Room (R110)
Video conference service is available plus technical support. Please call Jim Schneider at 262-619-6626 for current rates and scheduling.
Vending machines are available on the second floor.
Statue of Mary Todd Lincoln and Abraham Lincoln
Visible from Main Street, the statue is believed to be the only one depicting the couple together. In June of 1867, Mary Todd Lincoln traveled to Racine, Wisconsin, to spend leisure time while her sons, Robert and Tad, were in Washington to testify in a legal trial. While in Racine, Mary spent time looking into Racine College for her son, Tad.
Many years later, Lena Rosewall, a historian of the lives of Mary and Abraham Lincoln, felt that Mary had offered more to further her husband's career than for which history had given credit. After Rosewall passed way in 1935, her entire estate of $20,000 to was donated to create a memorial statue of Abraham and Mary together. The executors of Rosewall's estate chose Frederick C. Hibbard to create the statue. Hibbard created the statue of Abraham and Mary from gray granite in two years. He wanted to portray Mary and Abraham as peaceful and hopeful before the struggles of the Civil War erupted. The statue was dedicated on July 4, 1943.
Sustainable Energy Generation
The campus hosts three small wind turbines and a solar panel wall.  Students have access to web-based power generation statistics offered in real time.  While contributing only in a minor way to the overall power needs of the campus, the units serve as a learning tool for students and a symbol of Gateway's commitment to the environment.
Lake Michigan
The Racine Campus offers an incredible view of Lake Michigan. Whether summer or winter, students can enjoy the changing moods of the lake from inside the Student Commons or one of the outdoor sitting areas.
Native Prairie
Gateway has planted a native prairie on the lake side of the Lake building to help educate students about the importance of utilizing native plantings.  The native species planted here are better able to thrive in our natural conditions.