9449 - 88th Avenue Pleasant Prairie, WI 53158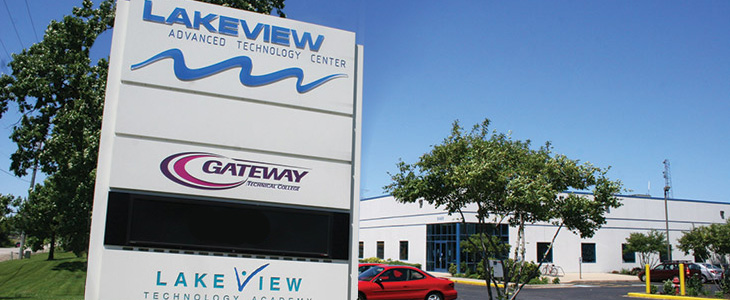 LakeView is the product of a unique partnership between Gateway Technical College, Kenosha Unified School District, the Kenosha Area Business Alliance (KABA), and WISPARK Corporation. By day, LakeView is a Kenosha Unified School District academy where high school students can take high school courses as well as select to take college courses taught by Gateway faculty for both high school and college credit. By evening it is a Gateway Technical College center.
High School students take Gateway classes on-site at LakeView Technology Academy which allows them to earn 18-21 college credits. These credits can be used towards a Gateway degree or diploma or transferred towards several other colleges. LTA's career tracks: engineering, manufacturing, information technology, AND biomedical. The classes they take in the Engineering and Manufacturing track can transfer directly into the CNC or Electromechanical Programs.
The focus at Gateway's LakeView Advanced Technology Center is on Manufacturing, Engineering and Information Technology.
The center offers the following programs and services:
Technical Diploma program
Certificate programs