3520 - 30th Avenue, Kenosha WI 53144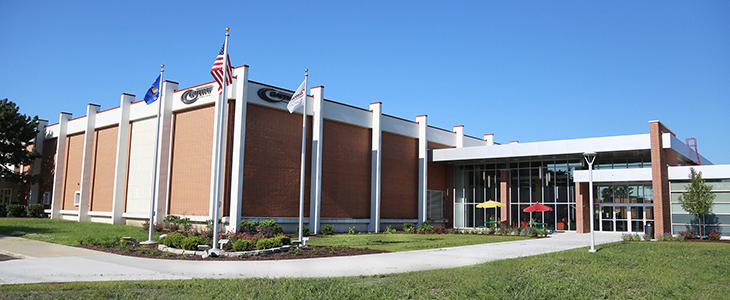 The Kenosha Campus of Gateway Technical College is both one of the largest academic campuses in the Gateway District and is also home to the district administration.
Gateway Technical College's Kenosha presence began in 1912 as the Kenosha Continuation School. Following numerous name changes over the decades, in July of 1971 the state vocational system combined the Kenosha and Racine operations and created the Gateway Technical College district.
The Kenosha Campus hosts several special entities:
The Gateway Technical College Foundation, Inc. The Foundation provides thousands of dollars of scholarships to Gateway students each year.  Governed by a committed board of directors, the offices are located at the Center for Bioscience and Information Technology building.
WGTD Public Radio: WGTD is part of Wisconsin Public Radio's "NPR News & Classical Music Network." The radio station broadcasts at 91.1 FM from studios located in the Bioscience and Information Technology Center on the Kenosha Campus. In addition, the station broadcasts via low-power translators in Elkhorn at 101.7 FM and in Lake Geneva at 103.3 FM. For more information, please visit their website at www.wgtd.org.
Gateway Radio Reading Service: GRRS, a subchannel of WGTD is a reading service for the print handicapped, reading newspapers, magazines and other materials of interest to those who have a specialized receiver. GRRS is located in the Conference Center building.
Center for Sustainable Living: Gateway's CSL is an environmentally conscious, interdisciplinary and project-based learning environment for students and faculty. Gateway works in tandem with community organizations and local elementary and secondary schools to expand the young students' horizons.
Every Child's Place daycare center. This independent daycare center is open to infants six weeks old to children 12 years of age.  The center is noted for its care for all children, including those with special needs. It is located in the Center for Bioscience and Information Technology building. For more information call (262) 564-3270.
Administration Center.  This center hosts many district administrative offices and support services including Human Resources, Business Services, Academic Affairs/Provost offices, Research and Planning, Community and Government Relations, and more.
Parking
Several spacious parking lots make parking handy to students on the Kenosha Campus. The largest is to the north of the academic complex / east of the Conference Center building.  Others are located to the south of the Academic building, south of the Technical building, and to the west of the Science building. New LED parking lot lighting provides safety for students, faculty, and visitors.
Service Corridor
The Service Corridor provides access to Follett's Bookstore, Gateway Gifts, and the Student Commons.
Student Commons
Student Commons (room M103) offers a spacious atmosphere for both dining and studying between classes. Food Services Incorporated provides food service. They offer soups, sandwiches, pizzas, sodas, and juices. Their hours from September through May, are Monday through Thursday from 7 a.m. to 7 p.m. and Friday from 7 a.m. to noon.
Follett's Bookstore
Follett's Bookstore provides textbooks, school supplies, t-shirts, sweatshirts, and snacks to students, faculty, and visitors. Store hours are modified throughout the academic year according to student needs. Students may also purchase textbooks and materials online from eFollett.com. For more information, please call 262-564-2246 or visit gtc.edu/bookstore
Gateway Gifts
This gift store is a project of Gateway's Marketing program.  Students, guided by their instructor, learn about selecting and purchasing stock, promoting, and operating the store.  Store hours are based on student availability each semester.  Hours are posted at the store.
Academic Building
The Academic Building contains the library, the Adult Learning Center, the Academic Support Center, open computer labs and many classrooms.
Library
The library (room A103) is a tremendous asset to the Kenosha Campus. The library offers numerous materials for checkout, including books, videocassettes, DVDs, periodicals, and some audiovisual equipment. Students and faculty may request materials from any campus library and have them delivered to another campus of choice. Non-students may register for a library card at any campus library. Students and staff use their Gateway IDs. Important features of the library include the following:
Computer facilities
Reference materials
Interlibrary loan
Leisure reading
Library instruction
Library hours vary by time of year. To learn more about the library, please visit: gtc.edu/library or call the Kenosha library at 262.564.2786.
The Adult Learning Center
The Adult Learning Center (room A121) is available for adults to brush up on their reading, writing, and math skills before they attend Gateway degree program courses. It also offers education to help students earn their GED certificates. For more information, please call 262-564-2796.
Special Needs
The Special Needs department, located within the Adult Learning Center, serves students who may have hearing, sight, learning, or physical disabilities. Please call 262-564-2500 for more information.
The Academic Support Center
The Academic Support Center (now located at Gateway Professional Building 3535 - 30th Avenue Suite 101A) facilitates the tutoring of students in various subjects including writing and studying skills.
The center also offers software instruction. Tutoring is free, and it is on a first-come, first-served basis. Students are urged to call ahead to be sure there is ample time available for their tutoring needs. For more information, please call 262-564-2732.
Open Computer Labs
Open computer lab (room A102) is equipped with computers that have software to support Gateway program curriculum and have access to the internet. Every currently enrolled student has access to the computer labs. Open computer lab hours are posted outside each lab.
In addition to the open computer labs, computers are available in other areas such as the library, the commons and other locations.
Technical Building
The Technical Building hosts the Barber/Cosmetology apprenticeship program, the HVAC/Sustainable energy labs, the Facilies Maintenance Lab, and the Law Enforcement Academy.
Technical Building Labs
The labs train students using state-of-the-art equipment.  Gateway is grateful to its industry partners—Trane/Ingersoll-Rand, Snap-on, and Bahco for making it possible for Gateway to use new, high-quality equipment to better prepare students for the workforce in the following areas:
Geoexchange
Facilities Maintenance
Industrial Heating
Sustainable Energy
Refrigeration
Law Enforcement Academy
The Law Enforcement Academy (rooms T111, T113, T115, and T123) provides a local training facility for law enforcement and related personnel to gain the training and certification they require for the workplace.  Most law enforcement agencies require their officers to complete academy training before becoming working members of their department. In addition to law enforcement departments sending their new recruits to the academy, individuals who wish to be more marketable to departments can register for the academy on their own and can also take the academy as a technical diploma program, which is financial aid eligible.
For more information please visit the academy office in the Technical Building in room R134 or call Coordinator Joe Whiten at 262-564-3170.
Science Building
The Science Building is home to Student Services and the labs and classrooms for several health careers—Dental Assistant, Physical Therapist Assistant, Nursing, and Surgical Technology.  Each of the labs have received major renovations and offer state-of-the-art learning technology that simulates conditions faced when working with patients.
Student Services
At Student Services (room 106), students may register and pay for classes, receive their student IDs, attend appointments with student services experts, and receive information regarding admission, financial aid and scholarships. Please see gtc.edu/student-services or call 262-564-2300 for more information including hours of operation.
Pike Creek Horticulture Center
The newly expanded and remodeled Pike Creek Horticulture Center contains several classrooms, a soils lab, an Urban Farming lab, and two greenhouses. Gateway offers both landscape and floral design programs at the center.
An advanced technical certificate in Urban Farming was recently added.  Students learn intense vegetable gardening methods, coupled with several business and marketing courses with the intent to turn their garden produce to profit.  Students learn at the Urban Farm plots located on the grounds of the Center for Sustainable Living.  Produce is sold during the season from the store area within the Pike Creek Center.
Center for Bioscience and Information Technology
The center is home to the majority of the Kenosha Campus information technology courses, many science labs, the President's office (rooms 201-203), the Foundation offices (218), Workforce and Economic Development offices (217), WGTD studios (230), public computer access (atrium), and Café 91.1 (atrium).
Kenosha Conference Center
The conference center is host to the Madrigrano Auditorium and several district departments.
Madrigrano Auditorium
The auditorium has the greatest capacity of any Gateway facility, holding up to 500 people (depending on the room set up).  It is ideal for hosting meetings, ceremonies, dinners, and special events. To learn more or schedule an event, contact The Room Scheduling Office, roomscheduling@gtc.edu.
District departments housed at the Kenosha Conference Center include:
Print Shop
Marketing and Communications
District Information Technology
Learning Innovation
Workforce and Economic Development Division (teaching offices)
Center for Sustainable Living
Gateway's Center for Sustainable Living is an environmentally conscious learning environment for students and faculty. The home and grounds demonstrate practical use of sustainable products and practices. Gateway encourages incorporating sustainable practices into its program curriculum and several programs have demonstration projects at the center.  Community organizations are encouraged to utilize the learning facility and grounds.
Learning Gardens
The campus enjoys the beauty of its Learning Gardens on the south side of the Academic building. Horticulture program students designed the gardens and maintain them. The various types of gardens offer learning opportunities and enhance the beauty of the campus grounds.