3520 – 30th Avenue, Kenosha WI 53144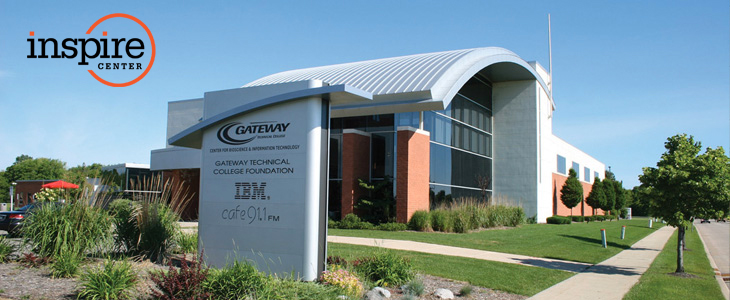 The Center for Bioscience and Information Technology is transitioning to the Inspire Center.
The Center for Bioscience and Information Technology is a community building located on the Kenosha Campus that hosts the Gateway President's office, a state-of-the-art radio station, and science labs (watch for the opening of our Human Patient Simulator labs Fall 2017) and conference rooms.
This 30,000 square foot, two-story center hosts an Executive Training Room (room 120), which accommodates 45 people, and a conference room (room 121), which accommodates 12 people. It also will feature the Human Patient Simulator labs supporting our Nursing programs. The second floor is also home to state-of-the art laboratory equipment used to support Gateway's nursing and health-related program students. The facility is equipped with seven computer workstations for community use and has three rooms that support videoconferencing.
One of the main features of the Inspire Center is the WGTD 91.1 FM radio station. Owned and operated by Gateway, WGTD is the only full-service radio station that covers Racine, Kenosha, and Walworth counties. It is a valuable source for public radio, offering local news coverage, classical music, and well-known public radio broadcasting. WGTD affiliates with Wisconsin Public Radio and National Public Radio, providing an enlightening combination of in-depth news and cultural programming. WGTD reaches an average audience of at least 10,000 listeners each week. The station provides such NPR staples as the following:
Chapter a Day
Classical Music
The Morning Show
All Things Considered
Fresh Air with Terry Gross, Morning Edition
A Prairie Home Companion with Garrison Keillor
To learn more about this tremendous asset of Gateway, please visit the radio station's website at www.wgtd.org.
Open computer lab
The open computer lab is equipped with computers that have software to support Gateway program curriculum and have access to the internet. Every currently enrolled student has access to the computer labs. Open computer lab hours are posted outside each lab.
In addition to the open computer labs, computers are available in other areas such as the library, the commons and other locations.
Facility Rentals
The Inspire Center has a wide variety of facilities available for rent by local business and community groups. Facilities available for use include Conference rooms, computer labs,  labs, SMART training room, training rooms, and common areas. Video conferencing capabilities are available. Vending is offered on site. For more information or to schedule a facility rental please contact Jane G. Kluchka at (262) 564-3402 or kluchkaj@gtc.edu.