400 County Road H, Elkhorn, WI 53121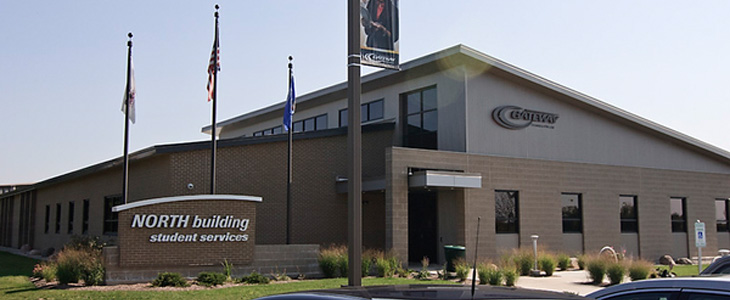 The Elkhorn Campus is surrounded by the open fields of Southeastern Wisconsin, yet adjacent to an industrial park with easy access to county and interstate highways. The campus is compact and friendly, allowing students, faculty, and visitors to easily connect and make the most of their interactions and shared experiences.
The Elkhorn Campus is easily accessible from I-43 and Highway 12 in Walworth County. Gateway established the Elkhorn Campus in 1967, and it continues to grow to meet the needs of the community. The facilities of the Elkhorn Campus include up-to-date computer and graphics classrooms, a recently redesigned health care career wing, a Follett's bookstore, and an addition to the North building that houses a Learning Success Center, a new Student Services area and a full-service library.
The Elkhorn Campus is composed of the North Building and the South Building.
The North building includes the following:
Library (Room N226)
Student Services (Room N221)
Follett's Bookstore (Room N200) 
Health Care Career Wing (The east wing of the North building)
Learning Success Center (Room 208)
Open computer lab (Atrium)
The South Building includes the following:
Student Commons
Upper Iowa University offices (Room 115)
Conference Rooms (Rooms 112 and 114)
Both buildings are handicapped-accessible and contain handicapped restrooms.
Parking
The largest parking lot is located to the west of the North building. Another large lot is located to the south of the South building, outside of the Student Commons.  Smaller lots are located adjacent to both buildings. 
Follett's Bookstore
Follett's Bookstore provides textbooks, school supplies, t-shirts, sweatshirts, and snacks to students, faculty, and visitors. Store hours are modified throughout the academic year according to student needs. Students may also purchase textbooks and materials online from eFollett.com. For more information, please call 262-741-8108 or visit gtc.edu/bookstore.
Library
The library (room N226) is a tremendous asset to the Elkhorn Campus. The library offers numerous materials for checkout, including books, videocassettes, DVDs, periodicals, and some audiovisual equipment. Students and faculty may request materials from any campus library and have them delivered to another campus of choice. Non-students may register for a library card at any campus library. Students and staff use their Gateway IDs. Important features of the library include the following:
Computer facilities
Reference materials
Interlibrary loan
Leisure reading
Library instruction
Library hours vary by time of year. To learn more about the library, please visit: gtc.edu/library or call the Elkhorn library at 262.741.8042
Student Services
At Student Services (room N221 in the North building), students may register and pay for classes, receive their student IDs, attend appointments with student services experts, and receive information regarding admission, financial aid and scholarships. Please see gtc.edu/student-services or call 262-741-8300 for more information including hours of operation.
Open Computer Lab
The open computer lab (atrium) is equipped with computers that have software to support Gateway program curriculum and have access to the internet. Every currently enrolled student has access to the computer labs. Computers are available during regular campus hours.
In addition to the open computer labs, computers are available in other areas such as the library, the commons and other locations.
Learning Success Center
The Learning Success Center is in Room 208 in the North building.
Adult Basic Education/GED/HSED  8:30-11:30 a.m. and 5:30-8:30 p.m. M-Th and 8:30-11:30 a.m. Friday
Tutoring See the Tutoring Services webpage for current schedule.
Disability Support Services 8:00 a.m.- 4:00 p.m. M-Th and Friday by appointment only
Testing  By appointment in Student Services. Information and Accuplacer test preparation and schedules available at gtc.edu/testing. Testing offered in the Learning Success Center includes:

Placement (Accuplacer/ASSET)
GED and HSED
Advanced Standing
911 Dispatcher Assessment
Assessment proctoring for other colleges
Student Commons
The Student Commons, located in the South building, offers a place to relax, eat, or study. In addition, a variety of student activities are scheduled for the facility.
Food Service
Adjacent to the Student Commons is Sweet Something's Pastries, LLC, an independently operated delicatessen available to students, faculty, and visitors.
Conference Facilities
The Conference Center has two rooms with a total seating capacity of 80. Please call Room Scheduling at (262) 564-2618 for more information on rental rates.
Room 112 (capacity of 30)
Room 114 (capacity of 50)
WCEC (Walworth County Education Consortium)
The Elkhorn Campus hosts a Walworth County Charter School.  The Alternative High School (AHS) is a creation of the Walworth County Educational Consortium.  It is a partnership of Gateway Technical College, Lakeland School, and Badger, Delavan-Darien, and Elkhorn Area School Districts.  The school was established in August 1990 to serve 11th and 12th grade students at risk of not graduating.  The AHS achieved charter school status in the summer of 2000. 
It is the mission of the alternative high school to provide an environment which promotes the academic, emotional, social, and vocational growth and development of those students whose needs are not being met by the traditional school setting. 
Native Prairie
This prairie, located to the northeast of the North building, was installed in 2009 to help educate students about the importance of utilizing native plantings. The more than 30 varieties here are better able to thrive in our natural conditions. Watch for the abundance of insects and wildlife who use the prairie as a food source. 
Fitness Course and Equipment
The course, located to the west of the North building parking lot, is comprised of durable plastic exercise stations along a marked course.