496 McCanna Parkway, Burlington, WI 53105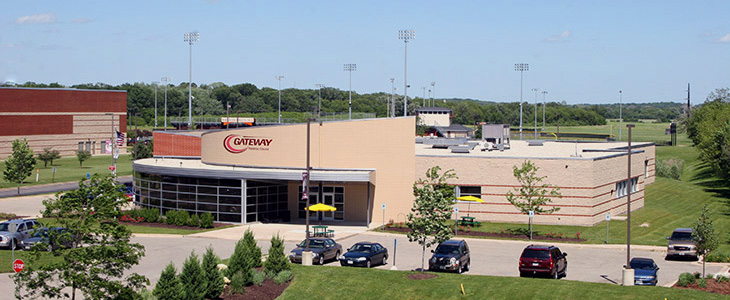 Gateway Technical College's Burlington Center, located just south of Burlington High School off of Highway 11, opened for classes in 2005. The Burlington Center is one of two Gateway centers along McCanna Pkwy. in Burlington and hosts the Nursing program.
Parking
Parking is limited on the Burlington Campus. If lots around the Gateway building are full, there is additional parking available in the Burlington High School lots. Parking on the surrounding streets is prohibited and could result in a ticket.
Open Computer Labs
The open computer lab is equipped with computers that have software to support Gateway program curriculum and have access to the internet. Every currently enrolled student has access to the computer labs. Open computer lab hours are posted outside the lab.
The Adult Learning Center
The Adult Learning Center (room 123) assists students who need help with their reading, writing, and math skills before attending college-level courses. It also equips adults to earn their GED/HSED certificates. Services are also available for English Language Learners. For more information, please call 262-767-5090.
Bookstore
The Burlington campus offers two routes to obtain your textbooks and supplies without leaving campus. Books may be rented and purchased in new, used, or digital versions.
Order online through efollett.com. Students may use financial aid or credit cards with this option and have their materials sent directly to your home, the Elkhorn campus for year round pickup, or the Burlington Campus for designated pickup days. Please see the efollett web site for details or call the Elkhorn Bookstore at (262) 741-8108. Photo identification required when picking up orders.
Order by Email or Fax with the Remote Campus Order Form. Students may preorder their materials and pay with cash, check, or funding other than financial aid (3rd Party, High School programs, Departmental Charges for Fire Departments, etc.). Please see the form for details.
The Elkhorn Bookstore location stocks all Burlington course materials as well as nursing reference, school supplies, computer products, and Gateway apparel. Click here for more information on our campus stores and services.
Library services
Services can be accessed through the Gateway web page at gtc.edu/library, or contact Jason Steagall – (262) 741-8438 (Elkhorn) or e-mail elkhornlrc@gtc.edu.
Additionally, the Burlington High School Library is available for use by Gateway students Monday – Friday, 7 a.m. to 3:30 p.m. For further information about these services please see the Adult Learning Center (room 123).
Student Commons
The student commons offer a spacious atmosphere for both dining and studying between classes. Dining is provided by The Grater Tater Xpress and is open during the fall and spring semesters.
Nursing Lab (room 127)
The Nursing lab is designed to duplicate a hospital setting. Students practice their technical skills in the lab which features state-of-the-art equipment including; mechanical lifts, wheelchairs, thermometers, manikins and low bed units.