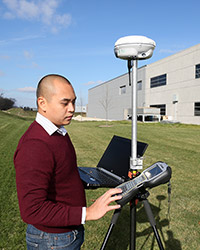 Mark Vitor for years had considered entering the architectural design field, but life brought other opportunities. The Racine native moved to Los Angeles where he was an information technology staff recruiter, then back to Wisconsin, where he again was a recruiter, in Milwaukee.
Like many others, however, Mark found himself laid off as the soft economy hit the company for which he worked. He believed he needed to earn a degree to increase his career possibilities, and thoughts of architecture returned. Mark had heard great things about Gateway from friends and family and discovered the new Architectural-Structural Engineering Technician program offered by the college.
He enrolled – and says the training and opportunities presented by Gateway provide him with the structure to enter the career of which he's dreamed. Combining the solid training delivered by industry-savvy instructors and an internship which further honed his skills to meet the needs of employers, Mark says he believes he has the skills to go into his field successfully.
"Gateway has opened opportunities for me I would otherwise not have had," says Mark. "The biggest thing in all of this is that the training and skills taught at Gateway are the same that are in the field. It's one thing to learn something academically, from books – it's another to be taught by someone with real-world experience, telling you what's important for you to know and learn.
"That resonated much more with me – and what I found to be important in the classroom at Gateway was important in the working world, too."
Mark says Gateway instructors provide students other real-world insight into the career they will soon enter, including securing internships and providing guidance on companies which may be hiring.
"They are great instructors and give us great advice on the skills employers are looking for – and make sure we have the opportunities to learn those skills," says Mark.
Mark says he's even seen instructors add skill training after listening to professionals and students who've had internships. "They felt we needed that extra boost in some specific areas, so they added that into the classroom."
Mark adds that instructors relate classroom instruction to the working world in all courses – not just those which were program-specific. "They are well versed in what they teach, all my instructors were great compared to those I had in the past," he says. "They are very adaptable to student needs."
Mark took a number of courses from four-year colleges in Wisconsin before and after he moved to Los Angeles.
Finally, Mark says Gateway's strengths also include library staff members, who helped him with various classes, and financial aid administrators who worked with him to clear up some issues in finances.