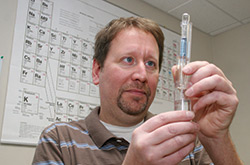 Chris Williamson left a job in a shrinking industry hit hard by changing technology and challenges and turned to Gateway Technical College to receive training in an expanding career field.
He's since graduated with a degree in Civil Engineering Technology-Fresh Water Resources and believes it is a field that will bring him more job security than the former industry in which he worked.
"I know there have been efforts to establish Southeastern Wisconsin as a major player in the field of freshwater resources, and I want to be in on the ground floor of that effort," says Chris.
Having just graduated, Chris is looking for his first position in the industry, but says he is doing so with the confidence of a Gateway degree.
"I really got a lot out of my education at Gateway," he said. "Getting this degree was one of the first decisions I made after getting laid off. It was a good decision, I enjoyed it and I'm prepared for this career."
Chris says the printing field has been rocked by job insecurity for the past several years and his Freshwater Resources degree will give him that peace of mind to be in an industry that's expanding.
"It is a degree that I believe will translate into a good-paying, secure job," he says. "That is really what I need."
Chris knew his job would soon be eliminated and was pondering which career pathway he should choose.
"I thought Freshwater Resources would be something that would interest me, and, after talking to career counselors at Gateway, I realized this was where I wanted to be," says Chris. "I enrolled right away."
Chris says while it was a couple decades since high school and studying for tests, quizzes and bookwork, Gateway helped acclimate him to the demands of college life.
"The environment at Gateway is very welcoming," he says.
Chris was somewhat worried over his first class – technical math – but he soon settled into studying and earning his degree, helped by Gateway's instructors and Academic Support Centers.
"Gateway's instructors are exceptional," says Chris. "They encourage you and work with you to earn your degree. I did go the Academic Center for my Physics classes. The staff members there are excellent, just like my instructors. They are very personable and professional, and work hard to help you to understand the material."