View video of the entire ceremony of the Dr. Martin Luther King, Jr. Celebration.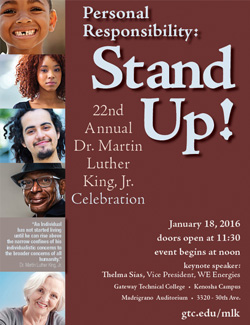 2016 Dr. Martin Luther King, Jr. event was scheduled at noon, January 18, 2016 in the Madrigrano Auditorium, Kenosha Campus.
This year's event featured keynote speaker Thelma Sias, Vice President Local Affairs for Wisconsin Energy Corporation. She spoke to this year's theme, Personal Responsibility: Stand Up.  Ms. Sias certainly has taken personal responsibility for change in the Milwaukee community.  She has served in leadership and board member roles in numerous community agencies including United Way, Boys and Girls Club, African-American Women's Fund Project, Community Advocates and more.
During the celebration, the 2016 winners of the Humanitarian Award were recognized. Recipients are residents of Kenosha, Racine or Walworth counties who have been nominated as being selfless, providing distinguished service to the community and embodying the spirit and philosophy of Dr. Martin Luther King.
In the afternoon Gateway will host an Education Summit--"Literacy in Southeastern Wisconsin" at 2 p.m.
---
News Releases
Archived Dr. Martin Luther King, Jr. Celebration Programs (video):
(Please note some of these are large files.)