HERO Center - 380 McCanna Parkway, Burlington, WI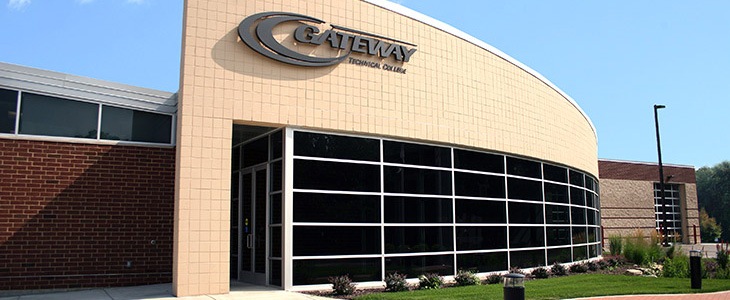 Gateway Technical College's HERO Center is a fire medic and EMS industry hub for real-life, scenario-based training, disaster simulation and technology-equipped classroom instruction.
The center provides training for new and incumbent workers, EMS students and fire medic training. Instructors give students the most real-life skills possible so they can handle the numerous scenarios facing emergency workers.
911 Dispatcher Training
The 911Training Center includes training for CritiCall® Assessment, national training curriculum from the Association of Public-Safety Communications Officers (APSCO), and 911 training simulators from SAVE®.
Apparatus Bay (room H119)
The apparatus bay provides instructors with a space to stage scenarios that simulate real-world emergencies for the EMS and Fire Protection Technician programs. Simulated emergencies include second story apartments and industrial areas. The space also provides for instruction in firefighter survival techniques as instructors can set up virtual unsafe situations allowing students to practice various rescue techniques.
The apparatus bay is also home two ambulances - one is stationary while the other ambulance is an actual working ambulance. EMS students learn how load and unload patients as well as how to work with patients injured by a fire or other emergency. 
Human Patient Simulators (room H102)
The lab provides students with the opportunity to learn patient medical care utilizing the cutting-edge technology of the METIman simulator. The simulator mimics an actual emergency patient.
Pierce Manufacturing Command Center (room H101)
The realistic command center can be run as a virtual fire department and crisis communication center. Students can train for emergency situations from a single building fire to a community-wide emergency situation. The center has a large 8x16 foot screen that can project up to four different images and video feeds allowing students to gain real-world experience as they practice working through emergency situations.
Student Commons
Student Commons offers a spacious atmosphere for both dining and studying between classes. Vending machines are available for students to purchase snacks and drinks.
The HERO Center encompasses the whole area of patient care – from treating a computerized "patient" in a living room to loading them into a working ambulance and then bringing them back to the HERO Center and into a simulated emergency room.
"On Eagles' Wings" monument
In front of the HERO Center stands the monument "On Eagles' Wings," a monument inspired by the heroic acts of the first responders to the World Trade Center on Sept. 11, 2001. The monument stands as a tribute to the value that through education we can empower a more tolerant society.
This monument is a testament to the courage and compassion demonstrated through professional commitment by the men and women who serve as first responders in our community.  The brick walkways surrounding the monument bear the names of HERO Center supporters.