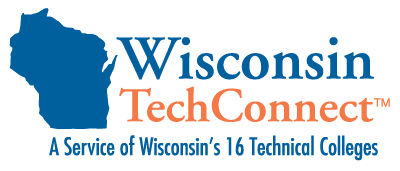 Your Next Great Employee is on Wisconsin TechConnect!
Wisconsin TechConnect is your online connection to students and graduates. It's FREE, simple to use, and has an ever-changing pool of quality candidates.
Post your full time, part time, and internship job opportunities.
View candidate résumés from programs matching your job postings.
Preview your job postings as job seekers will see them.
Track how many times your job postings have been viewed and emailed to job seekers.
Upgraded matching allows your job postings to connect with even more job seekers.
Submit your job openings to Wisconsin TechConnect.
Learn how to create an account and post a job in Wisconsin TechConnect.
---

Recruit interns on WisConnect to enhance your skilled talent pipeline.
Create a free employer profile
Post internships
Search for Wisconsin college students
Find resources to build or expand internship programs.
College students are joining WisConnect regularly and businesses should visit the site frequently to make new talent connections.
Begin your internship search today. 
You could also set up an internship at your business
Perhaps you would prefer to set up your own internship. They hold value for employers, and they provide them the opportunity to guide and evaluate future talent.
The start date and the length of the internship will depend on the employer's needs, the internship course requirements, and the student's availability. As part of the internship, the Gateway course instructor, the employer, and the student will initiate a training agreement that defines the responsibilities and expectations of each. If you would like to explore the possibility of working with an intern, please contact the program area of interest.