Gateway supports business development by providing support for entrepreneurial initiatives to students and members of the community. Our goal is to build a regional workforce that embraces innovation. By aligning ourselves with partners with a similar mission and focus, we are able to offer a network of support. This gives us the ability to provide guidance to entrepreneurs and new businesses while also supporting the development of new industries.
We continue to incorporate tools into our program that are innovative and are at the forefront of industry that will allow us to help you:
Prioritize what you need to focus on at different stages of your business' development.
Identify your challenges and opportunities.
Foster new ideas.
Create an attractive business concept.

 
Entrepreneurial Case Study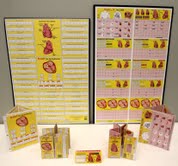 Gary Krause, RN, CEO of EKG Concepts LLC saw a need in the market place for providing quality tools for medical professionals.  Gary knew he couldn't do it on his own and through accessing resources and service providers he was able to navigate the process and establish a successful business.  Gary is passionate about his experience and is proactively sharing his story with entrepreneurs and referring them to his advisors.
EKG Concepts LLC: A Case Study in Entrepreneurial Collaboration
---
Business Mentoring
Are you looking for support and guidance for your business from an experienced professional that you can trust?
Along with the help of our partners, we can assist you with business mentoring. We can take a look at the challenges you are facing from an outside perspective giving us the ability to see where there are gaps.  We can also use the wealth of experience we have acquired dealing with other organizations to provide the guidance that you need.
Representatives from SCORE are on-site at iMET to provide mentorship in the areas of business concept development, sales and marketing strategies, operating plans, financing, mentorship, and more. For more information about SCORE please visit http://www.scoresewisconsin.org/ or contact one of the following SCORE Southeast Wisconsin counselors for an appointment.
Jim Longe, jim.longe@gmail.com
Mike Gibbs, mikegibbs81@gmail.com
Alan Reid, alan.reid@scorevolunteer.org
Albert Lo, albert.lo@scorevolunteer.org