Saturday March 16, 2019
9:00 a.m. to 1:00 p.m.
Racine Campus
EcoFest Racine is a community celebration designed to share information and encourage participation in activities that help us live our lives in a more environmentally friendly way. It is organized by Greening Greater Racine and Gateway Technical College.
The event will be held on the Racine Campus of Gateway Technical College–1001 Main Street. The Saturday March 17, 2018 event is open to the general public. The event runs from 9:00 a.m. to 1:00 p.m. in the Lake Building. Parking is available in the large lot on the east side of the campus.
Ecofest Racine features informational displays, 20-minute informational presentations; and loads of children's activities. New this year will be The Vital Art Project -  an ensemble of artists whose practice examines the meaningful relationships between artist and environment - in nature and society. In addition, musicians will be performing during the event. Admission is free and a free gift will be presented to each family. Healthy refreshments will be provided for purchase. 
Please check back frequently between now and March 17th as we update participants' listings.
---
Zero Waste Event: A Community Program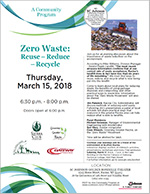 Preceding Ecofest will be a lively presentation about getting Racine to be a "Zero Waste" community. Within 6 years, Racine's landfill will be full, unless residents make some changes. Learn more--see this flier. 
Zero Waste: Reuse - Reduce - Recycle
Thursday, March 15, 2018
6:30 - 8 p.m. (Doors open at 6 p.m.)
SC Johnson Golden Rondelle Theater
1525 Howe St, Racine, WI 53403
RSVP at www.scjohnson.com/CIPreservations
---
Electronics Recycling
Electronics recycling is coordinated by the information technology students of Gateway Technical College and the services of a professional recycling firm, CasBro Recycling. All electronics can be brought to the truck located at the east (lake side) entrance to the Racine Campus' Technical Building. Student volunteers and recycling company representatives will assist you by destroying personal information/your hard drive before recycling.Click through to the CasBro website for a list of items CasBro will accept. All items are free.  Note that this year CasBro is not accepting televisions.  The City of Racine will recycle tube monitors and tube TVs for a $10 charge per unit.
---
Demonstrations/Presentations
All presentations will be held in the Demonstration Kitchen, just around the corner from main display area.

Time

Topic

Presented by

9:30 a.m.

Birds of Racine

Rick Faire, Hoy Audubon Society

10:00 a.m.

Reduce, Reuse, Recycle in Racine

Jim Palenick, Racine City Administrator

10:30 a.m.

Square Foot Gardening

Sr. Janet Weyker, Eco-Justice Center of Racine

11:00 a.m.

Energy Plan for Racine

Mayor Cory Mason, City of Racine

Noon

Introduction to Canning

Heidi Williams
Vital Art Project
Come visit the first floor for an environmentally conscious art experience.
Artist
Media
 
Catherine Cajandig, Chicago
- sculptural artist books
Vananda Gala, Racine
- mixed material and paper origami sculpture
Erik R. Peterson, Elgin, IL
- mixed material table top installation 
Mimi Peterson, Racine
- found object assemblage
Marilyn Propp, Kenosha
- print and paint on handmade paper
I. Carmen Quintana, Chicago
- photography
Gwendolyn C. Skaggs, Kenosha
- found object assemblage
Music and Readings
| | |
| --- | --- |
| 10:00 a.m. | Naomi Marie (Singer/Songwriter, Acoustic Guitar) |
| 10:45 a.m. | Racine County Poet Laureate, Lyrical Lioness (Poetry/Spoken Word) |
| 11:00 a.m. | James Sullivan & Kerry Spitzer (Irish Old-Time, Fiddle/Acoustic Guitar) |
| 12:00 a.m. | Racine County Poet Laureate, Lyrical Lioness (Poetry/Spoken Word) |
| 12:15 a.m. | Naomi Marie (Singer/Songwriter, Acoustic Guitarist) |
Display Booths
Alliance for Great Lakes: The Alliance for the Great Lakes works to protect the Great Lakes for today and tomorrow. Promoting education and volunteering as well as some federal policy actions.
Anarchy Acres: Learn the story of Anarchy Acres, the only farm in Racine County that actively demonstrates the principles of Deep Sustainability. Rosie's New Harness", an illustrated book for children will be available to purchase and have signed by the author and illustrator.  Stone-ground flour and popcorn will be available for purchase.
Bat Education, Awareness and Monitoring (BEAM): Information about bats in SE WI. Learn how white nose syndrome affects bats and how to monitor species and population from April through September. Child-friendly activities such as making an origami bat.
BRP US, Inc.:Learn about Evinrude engine emissions vs. competition; Reality of 4-stroke vs. 2-stroke engines. Energy Efficiency program at BRP; Isobutanol as a replacement for ethanol for small engines.
Butter Buds, Inc.: Learn about this local company's sustainability plan.
Caledonia Conservancy: Maps, pictures and brochures of Caledonia Conservancy-preserved properties (200 acres in Caledonia) will be on display. Explore their public access natural trails for walking, cross country skiing, horseback riding, and more. The School to Nature program will be highlighted with activities for kids to do. Honey with the CC Label from beehive on the properties will be available for purchase.
Case High School Green Team: This Case High School club will be sharing information on its initiatives.
City of Racine Department of City Development-Home Improvement loans: Home Improvement loan/grant programs. REEP- RACINE ENERGY EFFICIENCY PROGRAM, general housing and redevelopment programs and plans.  
City of Racine Forestry: Information regarding the benefits of trees, tree species for planting, proper planting methods, proper pruning, Emerald Ash Borer, information about Racine's public trees, and more. Bring your questions.
City of Racine Wastewater Utility: A display showing the processes used to treat the wastewater at Racine's plant, as well as information about other programs. Samples of before and after treatment.
Clean Power Coalition – Southeast Wisconsin: Learn about the harmful effects off coal, particularly the local impact from the Oak Creek coal plant. Information about the Coalition and upcoming events.
CREE Lighting: Demonstration of residential LED bulbs and downlights. Energy savings and environmental benefits will be discussed.
Eco-Justice Center:A display to share the work being done for the environment at the Eco-Justice Center. Information on the Farm Corp Program. Seed packets will be distributed.   Potted herbs will be available for purchase. The mission of the Eco-Justice Center is environmental education and care of earth in the context of community, contemplation, creativity, and cultivation.
First Choice Pre Apprenticeship Training: Promoting pre-apprenticeship training and training opportunity for Foxconn development and other related projects in the county.
Foodwise / GGR Food Council: How to choose plant-based foods and buying foods in bulk or reduced packaging.
Friends of Island Park: Learn about the restoration of native plantings in Island Park and the interesting history of the park.  Information about events and volunteer opportunities.
Gateway Technical College Arboriculture: Information on trees; correct and incorrect ways of pruning cuts; arboriculture climbing equipment will be on display.
Gateway Technical College Horticulture: Organic Gardening information---Answers from seeds to soil; plants to pests. Create your own mini terrarium for the first 100 visitors.
Gateway Technical College Sustainability and Fresh Water Resources program of study: Learn about Gateway's commitment to educational sustainability components as well as operational improvements to reduce its carbon footprint. Gateway's Fresh Water Resources program prepares graduates for positions at water utilities or supporting urban development.
Getting to Zero Waste: This table will have information and answer questions about a community-wide effort to develop policies and educate to reduce, reuse, and recycle. In particular, the display will demonstrate the new app on the Racine city site designed to provide citizens with information about how to recycle specific items.
Greening Greater Racine: Learn about this inclusive environmental movement working to inspire, educate and motivate residents to take action to make a healthier and more sustainable Racine area.
Greening Greater Racine Educators Network (GREEN)
Girl Scouts of Wisconsin Southeast: Eco-friendly crafts and activities for children and the opportunity to join the Girl Scouts.
Greater Racine's Nature Corridors Project: Building Our Nature Corridors in the Greater Racine Area.  This group is focused on conserving and enhancing the natural environment. Public will be encouraged to help identify private and public gardens with native plants, with the purpose of determining how much connectivity our nature areas have in our communities. Learn how these areas are critical for providing food for wildlife and maintaining biodiversity.
Greening Greater Racine Educators Network (GREEN): Samples of lessons, compost ideas, fun activities to do at home and in the classroom, "Vermiculture", kids ideas.
Hawthorn Hollow: To cultivate appreciation, understanding and stewardship of our natural and local heritage through environmental education and sanctuary preservation.
Hoyer Homestead Farm and CSA: Hoyer Homestead Farm and CSA uses organic and hydroponic practices for growing produce and will display produce grown hydroponically.
Hoy Audoban: Answering your questions about regional birds.
InSinkErator: The environmental benefits of food waste disposal – landfill diversion and resource recovery.​
Master Gardener Volunteers: Composting display showing stages of breakdown; basic information on composting techniques; uses of compost and tools for managing yard and household waste.
Monarch butterflies: Learn how to plant a Monarch butterfly "Waystation" to aid their Great Migration.  How to attract and create the right habitat to encourage their development and their environmental benefits.
Mt.Pleasant Chiropractic:  Sustainable health care--returning the body to its natural state.  Free health screenings to detect problems associated with nerve interference.
North Park Elementary School Nature Center and Gardens: Display about the school's Nature Center and vegetable gardens. See a display of worm bins.
Perennial Soaps:Cold process vegan soap and bath & body products will be available for purhase. Palm oil-free. Scented with essential or high-quality fragrance oils.Vertified vegan and cruelty free.
Pressed Creations: Learn about Monarch butterflies and Milkweed habitats; art using recycled flowers and butterfly wings.
Racine Kenosha Community Action Agency Weatherization Program:Will promote the Weatherization program for low income qualified recipients.  Information on how to make your home more energy efficient.
Racine Montessori School: The students will be sharing information on the schools environmental efforts.
Racine Sustainable Business Solutions  Network: Promoting and explaining the cooperative efforts to foster and celebrate sustainable actions among small and larger businesses, government agencies, schools, and non-profits.
Racine Urban Garden Network (RUGN): Displaying photos of gardens.  Information about location of community gardens, opportunity for plot sign up.  Seeds and seedlings.
Racine Zoo: Live animals and animal biofacts will be on site to learn about wildlife.  Information on upcoming events.
Red Moon: Selling honey from around the world as well as locally sourced.
River Bend Nature Center: Environmental education programs for families, schools and other organizations. Natural items 'touchbox" and other items to explore. Outdoor recreation center information.
Root-Pike WIN: (rootpikewin.org; respectourwaters.org) - Root-Pike WIN will present its Respect Our Waters campaign focusing on stormwater runoff education and reduction. Spokesdog Sparkles the Water Spaniel, will be on site to share the steps individuals can take to reduce this pollution. Interactive demonstration on tabletop runoff model. Giveaways for children and a raffle for a free rain barrel!
Root River Council: The Root River Council is a non-profit organization dedicated to the preservation, restoration, and sustainable redevelopment of the Root River in the City of Racine. The Council will display information and answer questions about the current conditions, issues and opportunities for the river. Information on the status of the RootWorks Plan adopted by the City of Racine and on the status of the Horlick Dam, which will need to be removed or replaced in the future.
Root River Environmental Education Community Center:Learn about kayaking and canoeing on the Root River during the months of June through September from the Root River Environmental Education Community Center. Information for any attendees interested in sustainable management academics and youth environmental education summer programs.
Sierra Club: Southeast Gateway: With a mission of exploring, enjoying and protecting the planet, the Sierra Club presents a broad range of activities and issues related to the environment both near and far. Topics will include local conservation efforts, educational programs, outings, climate change and clean energy, new members, water and land concerns, and invasive species.
SEWRPC-Southeastern Wisconsin Regional Planning Commission:Highlighting information about Managing Our Waterways; Root River, and VISION 2050.
Southeast Wisconsin Solar Group Buy: Formerly Solar Racine, a group buy program that promote clean energy through solar installations for both homes and businesses in Racine and surrounding areas. Information on installation of solar panels.
Tower Gardens: Displaying "Urban" tower gardening, a vertical, aeroponic growing system for 20-28 plants.
21st Century Preparatory School: Learn about living our lives in a more environmentally friendly way. Demonstrations, student displays, presentations and hands on activities promoting Greening School efforts and the impact of environmental issues in the Racine area.
United States Coast Guard Auxiliary: Marine safety and pollution education. Hands on activites.
UW-Extension Master Gardeners: Learn about sustainable gardening practices as deployed at Master Gardener projects. How to be "green" in the garden.
Walden III Green School: A display of the school club dedicated to environmentalism. The club also raises funds for Veterans Outreach of Wisconsin's Veteran's Village to help them become energy independent with solar panels on the roof of their community center.
Weed Out Racine: Invasive species of plants—identifying and why they should be removed.
Wild Ones-Root River Chapter: Wild Ones is a national organization that promotes environmentally sound landscaping practices to preserve biodiversity through the preservation, restoration, and establishment of native plant communities. Information about growing milkweed for monarchs and the native plant sale in June.
Wild Root Market: Wild Root Market will be a full-service, cooperatively owned grocery store in Racine specializing in natural, organic and local foods. Learn more about the project and see why 800+ households have chosen to become owners at Wild Root Market. Benefits and importance of community ownership.
Wisconsin Interfaith Power & Light: Basic information about Wisconsin and National Interfaith Power & Light, congregational and individual covenants.
---
Children's activities
Children's crafts using natural elements (flowers, sticks, leaves, seeds) and repurposed items
Environmental displays geared to children of all ages.
Much much more
Children's activities are being hosted by Gateway's Biz Squad and Gateway's Center for Sustainable Living.
---
Refreshments
The Grind Cafe: Healthy breakfast cookies and morning glory muffins and fresh fruit, fair trade coffee,veggie chili and carrot dill chickpeas salad will be available for purchase.