Your GatewayOneCard is more than just your official identification card. It also provides you with access to services on campus.
Please protect your GatewayOne Card and keep it with you.
Your GatewayOneCard can be used for: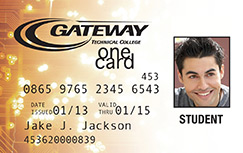 Accessing campus library services
Entrance into college student activities and events
Dining purchases at the Racine Campus culinary food service
All students are required to obtain a new GatewayOneCard. To obtain a card, you must:
Be a currently enrolled student or employee of Gateway Technical College
Present a picture ID or Driver's License to any Student Services location.
Adding money to GatewayOneCard
Each semester currently enrolled students will receive a $10 credit of non-fundable Gateway Print Points on their GatewayOneCard. These funds can be used for copying and printing on campus.
For students wishing to add additional funds to their GatewayOneCards there are two ways to add money:
Visit a cash loader kiosk on campus and insert cash
Before you add funds, be sure to read the Refund Policy.
Adding money online
Students wishing to add money online must go to https://gtc.campuscardcenter.com.
Students can either choose:
Add quick cash: The quick "add value" link to add money to their card without creating a login.
Login: Students can create a login to create a user profile, add funds, check account balances, and save account information for future use.
Students also have the option to establish a guest user that can access their account and add funds.
Adding money at a cash loader kiosk
Students can add money to their GatewayOneCard using cash at the cash loader kiosks on campus. The kiosks accept $1, $5, $10, or $20 bills. The machine only accepts bills and does not provide change.
Kiosks can be found in the following locations:
Burlington Center – atrium
Elkhorn Campus – North Building atrium
Horizon Center – atrium
iMET Center – atrium
Kenosha Campus – Student Commons hallway
Kenosha Campus – Bioscience Building atrium
Racine Campus – Student Commons
Reporting a lost GatewayOneCard
Report your card as missing by calling 1-877-271-1743
Go to any Student Services Center to obtain a new card. A $5 replacement fee will apply.
If you have questions regarding your GatewayOneCard account contact: 877-271-1743 or email gatewayonecard@gtc.edu.