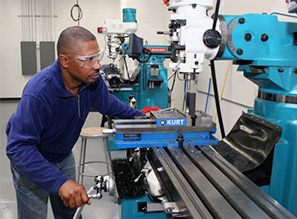 David Thomas completed Gateway's first-ever welding boot camp and benefited greatly, landing a job as a welder with a Racine-area employer. Once that business folded, however, Thomas sought change in his career path – and turned again to a boot camp, this time industrial maintenance repair.
David likes welding, but seeks to broaden his career outlook and skill set. He believes he is obtaining those through the most recent industrial maintenance repair boot camp. He said the variety of skills he's learning will also give him even more employment options.
"I wanted to go a different route," said David. "I love this boot camp because it is giving me the opportunity to learn a number of different skills. You don't learn just one skill; you are trained in a lot of different areas – which allows you to go into a number of different careers. This will give me a lot of opportunities." David said he's most interested in pneumatic and hydraulics and hopes to be able to pursue a career in either of those two areas.
David strongly believes in working hard to learn the skills taught through the boot camp and then working just as hard to ensure they are a benefit to his employment outlook. "You can't just sit there and wait – you need to make the effort and gain employment."
"It will be a different working environment for me," he said. "This is more of a 'thinking' boot camp and career. There is a lot to remember, but I will use the skills I've learned and the approach to each situation properly when I go out and seek those jobs.
"I have had success before and I am hoping to have that same success."
---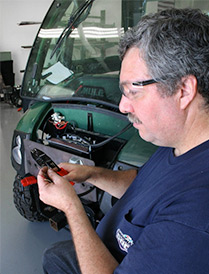 After a lifetime of working in the automotive industry, Mark Gontscharow said he sought a different career – yet one that demanded similar hands-on skills.
Mark said he's learning those skills in the Industrial Maintenance Repair boot camp and looks forward to begin his career soon after he completes the camp. He's excited about the numerous career pathways offered by industrial maintenance repair. "Industrial maintenance will open a lot of different doors to me," said Mark. "We aren't receiving training just in one area – industrial maintenance covers many different skills and career paths. The way I look at it, the skills I gain here will qualify for me to work at many different workplaces."
The automotive business Mark worked for closed its doors about a year ago and he began looking for work. He wanted to exit the automotive industry, but still wanted a hands-on career stable enough to withstand a soft economy – and believes industrial maintenance meet his career goals perfectly. "I am looking for something stable, a career I can work in for many years," said Mark.
He said industry-savvy boot camp instructors prepared him well for the workplace he will soon enter. "They have that experience, they give you the real-life experience," he said. "They add what you learn in the books – they tell you what you are really going to see and tie what you learn in the text to the shop."