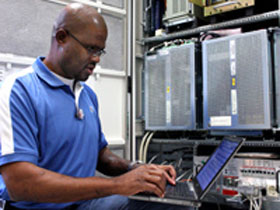 Walter Edwards says Gateway's strong career training, resources and programming options helped lay a strong foundation for his career as a GE Healthcare service engineer.
"Gateway allowed me to be that well-rounded technician," he said. "They offered a lot of opportunities for me to receive training through their many different programs."
Edwards earned four associate degrees at Gateway, including Fluid Power Technology, Electrical Engineering, ElectroMechanical Engineering, and Automatic Manufacturing Systems. Some of the credits he earned initially were used to help him earn degrees in other programs.
"That's one of the strengths of Gateway. The college gives students time to grow and to have those successes that will help them once they graduate," says Edwards. "The college allows you the opportunity to build that foundation to your success on your timetable."
Walter said Gateway's instructors and realistic training prepared him well for the working world, offering him the opportunities to give him the edge over other applicants and a boost in his career. He speaks often to students and has served on Gateway committees, advising the college on program curriculum to make sure it aligns with real-world practice.
"Gateway allowed me the opportunity to realize I was capable of meeting any challenge set before me," Edwards said.