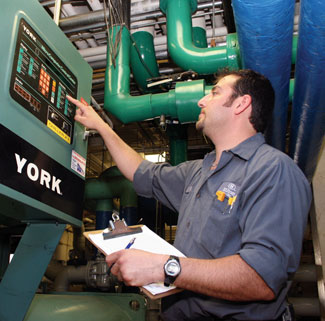 Vito Antonacci says his Gateway training prepared him well for his career.
He says instructors encouraged students to apply what they learned books to hands-on training, made even more valuable because they brought their real-world industry experience into the classroom.
"Those classes prepared you most because instructors used components and parts already used in the field," says Vito. "The instructors are great, especially since they've worked in the field. It's not just theory – when they talk about it, they actually did it."
Vito earned a degree in Gateway's Air Conditioning, Heating and Refrigeration Technology Associate program. He says Gateway training helped him land an interview for his current job as a building engineer in a downtown Milwaukee hotel in more ways than one.
"The first interview was a 10-page, 200-question mechanical test," he says. "Once they saw how well we did on that test, we were called back. Our training at Gateway helped us to do well on those tests."
Vito credits Gateway for many of the day-to-day skills needed to do his job. He says the program was well-rounded enough to give him the foundation for his current position, which calls for knowledge in everything from restaurant equipment to heating and cooling systems.
"Most of it I learned at Gateway," he says. "The main part of our job is a lot of troubleshooting, and we had training in that. We work with a lot of wiring – again, we had courses on that. Plus, all the air conditioning and other electric work we do – we trained for all of that at Gateway."