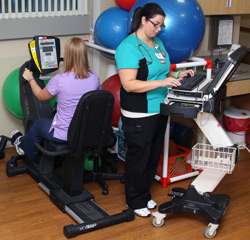 Gateway's caring and willing instructors combined with tough courses were the right prescription for Samantha Binkowski to pass the state nursing board test on her first attempt – and begin her job as a nurse at St. Luke's hospital in Milwaukee.
Samantha says while the nursing license test – the National Council Licensure Examination, also called NCLEX – was tough, she predicted she would do well because of the preparation she received at Gateway. "I passed the test with flying colors, and I knew instantly when I received the results it was because of Gateway," says Binkowski. "The challenging classes with instructors willing to explain to you the correct answers to you prepared me to pass the exam." Many nursing candidates fail the first time and must retake the exam.
About 92 percent of Gateway nursing graduates taking the NCLEX pass the test, one of the top groups among graduates from 35 colleges throughout Wisconsin taking the exam. A total of 265 questions are posed in the state exam. Testing ends, in the computerized exam, prior to 265 if enough questions are answered correctly to indicate the nursing candidate has a strong enough grasp of the material to be awarded a license. The minimum number of questions a test can be stopped at is 75 – and Samantha's test stopped at 77, and she knew of fellow Gateway graduates who stopped at 78 and 88.
"The curriculum was hard, it wasn't easy by any means," says Samantha. "We were tested frequently at Gateway and we had some really hard questions thrown at us." Samantha says instructors worked hard to ensure students could handle the complex nursing concepts and exams, knowing the questions they would face during the NCLEX exam. "We were prepared for our careers and the boards," says Samantha. "I knew the answers to the questions because that's what we studied in our courses. "Honestly, I don't know if I would have passed the test had I had gone anywhere else."