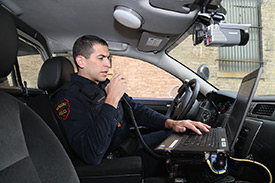 Matt Guardiola grew up wanting to be a police officer. Many of his family members had entered the career of law enforcement and he wanted to follow in their footsteps – and turned to Gateway Technical College to provide him with the training to do so.
Matt says he benefited from instructors who had been officers themselves in Southeastern Wisconsin – and brought those experiences into the classroom to help their students prepare for the career they would soon enter.
"The two greatest things about my Gateway experience were the instruction I received and the quality of instructors," says Matt, a patrolman with the Kenosha Police Department. "They had real-world experience and were hands-on in their instruction. They had a diversity of backgrounds to bring to the classroom, and many already served long careers in law enforcement before becoming instructors."
Matt says instructors also brought with them a working knowledge of the law enforcement landscape of the area and used that to help students as they graduated and sought employment. They were also able to steer them into career choices – and knew enough hiring managers in the field to be able to recommend students, as well.
"The word travels fast in this field, which is nice," says Matt. "They were local and still knew folks within those departments."
Preparing students for the demanding field of law enforcement was another benefit of a Gateway education, says Matt.
"I felt more confident entering my career field, to know the background and what would be expected of me. Our instructors prepared us for the working environment we would enter after graduating."
Finally, Matt, who worked while attending Gateway, says the flexible class schedules helped him to work and go to class.
Even thought he's graduated, Matt still runs into former classmates all the time. Many area law enforcement agencies hire Gateway graduates, he says, and it helps to have those connections with others in his career field. "It is nice to have those familiar faces, those who you matured and grew with from similar experiences," he says.
Matt has returned to the classroom recently – as an adjunct instructor. He conducts professional development courses for law enforcement officers, a requirement in the profession. Gateway provides many of these courses annually to meet the needs of law enforcement in its three-county district of Walworth, Kenosha and Racine counties.