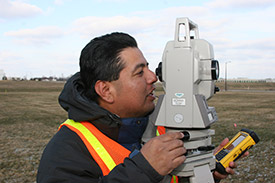 Martin Ruiz already had worked 12 years in the land surveying business and rose to the level of survey crew chief. Believing he hit his career ceiling and seeking also to recession-proof his job, he enrolled in Gateway's Land Survey Technician degree program.
Two years later, Martin earned his degree, and continues to work in the land survey industry with newfound confidence. He especially looks forward to taking his licensure exam to become a registered land surveyor with the state of Wisconsin using the skills and knowledge gained at Gateway.
 When he passes, the state and industry-recognized certification will pave the way for career advancement and the standard of living wage increase that go with it.
"The degree has made me more confident in my work, especially in the area of technical skills," says Martin. "Unlike many students, I had the field experience, but I needed the formal education, the book and technical skills. Gateway provided that for me."
Martin worked while he obtained his degree, noting that the flexibility of Gateway's scheduling provided him the framework to do so. He works as a survey crew chief, staking out sewers, roads, water mains and surveying property. He works with a registered surveyor – something he's hoping to be soon.
In addition to increasing his career possibilities, the program and obtaining his license will also help to retain his job even in a shifting economy.
"When the economy and housing hit bottom, I was laid off," says Martin. "I hadn't been laid off in 12 years. Luckily, I had made contacts in the industry and was able to land a job a few months later – but I knew I had to make myself more marketable.
"I knew I had to add that land surveyor license to my resume'. When I lost my job, I noticed there were openings – for registered land surveyors. I couldn't get those jobs because I didn't have my license. Now, I have the opportunity and training to obtain that license."
Martin says Gateway's hands-on, real-world training prepared him to re-enter his career and become a certified land surveyor.
"We had to work on an actual project, with professionals already in the industry, from start to finish," he said. "Even with all my experience in the field, I had never been involved in the project from beginning to end. I had only been involved in a small part of it.
"The format Gateway provides for students to be involved in this is great. I learned a great deal and can use it to advance in my career."