More than a job: Gateway grad follows passion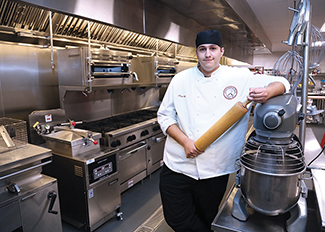 Cooking and culinary arts are more than just a job and career to Gateway Technical College graduate Mark Kleisner – it's his passion.
Gateway helped him enter a career he's passionate about through solid training, access to modern equipment and a recommendation strong enough to ensure he was hired after only a phone conversation with his current employer.
The employer knew of Gateway's reputation as having a strong culinary arts program – and an employee on staff who trained at the college to reinforce that reputation.
"My boss was looking to fill a position, and one of the staff earned her Culinary Arts degree at Gateway," says Mark. "She recommended Gateway and the boss called Gateway and asked my instructor, Susanna Elrod, if she knew of a graduate who was passionate about the career field and was seeking a job.
"Susanna recommended me, then gave them my contact information. They called me, I did a quick interview on the phone, and they fast-tracked me – I was working there within two weeks. My supervisor knew Gateway had a solid program, simple as that. No interview, just the phone conversation and e-mailing them my resume."
The Culinary Arts associate degree graduate says Gateway indeed prepared him well for the career field, providing him with the skills to become a skilled chef as well as something else – the passion and drive needed in the restaurant and food industry.
"I received a lot of real-world experience, not just book work – but also how to succeed every day in my career," he says. "They gave me the skills to deal with problems as they arise, how to deal with customers, and operating a restaurant.
"More than anything else, they confirmed to me that culinary arts is not just a job – it's a passion. They taught me how to succeed at my career and enjoy it."