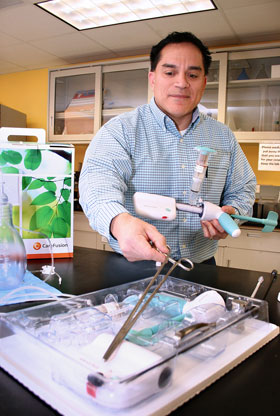 Isaias Tellez Jr.'s Gateway biomedical engineering technology training opened a new career for him as well as providing potential for future increased opportunities and responsibilities.
Isaias says he loves his career field and looks forward to the possibilities it means for his future.
"I like the fact that not only do I get to work with exciting and evolving technology, but I also get to help people in the process," he said. "What more satisfaction could you ever get out of a job than one where you help doctors and caregivers to do their jobs in order to care for patients?
"I am able to draw upon my previous work experience, my training and my creativity. I have a cool job."
Gateway's hands-on job and career skill training have helped Isaias flourish in his position as lead technician in research and development, product engineering, at CareFusion.
"The electronics knowledge base I gained at Gateway, the hands-on learning in circuitry, the labs, they were all great," said Tellez. "I benefited from the presentations we had to give for all of our biomedical projects at Gateway, too. I do that right now – I frequently give presentations to our group as well as those in upper management in our company. Learning that at Gateway was very, very good."
Tellez earned a Gateway Electromechanical Technology degree in 1990 and was working in the field as an automation technician as well as in research and development. After being laid off, he returned to Gateway to upgrade his engineering skills. He was particularly interested in the biomedical engineering career field and enrolled in Gateway's Electrical Engineering Technology-Biomedical Engineering degree program.
"The future looked bright in that area," he said. "I saw the trends and knew it would be an in-demand career field.
"Gateway gave me great insight on how to make good decisions, designs, working with a group and focusing on the real issues needed for your job. Gateway has been great to me."