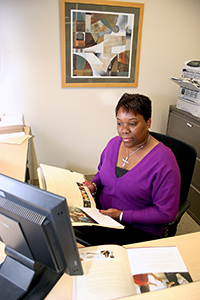 Hiliary Blalock came to Gateway Technical College 15 years after graduating from high school, seeking a new career and new horizons.
She enrolled in – and later graduated from – Gateway's Health Information Technology program, calling the education and training practical and of high quality to prepare her for a career.
Gateway has more than high quality training to offer students, though, Hiliary says. She also points to participation in two of Gateway's five student programs, Multicultural and Displaced Homemaker, as two resources provided by the college that helped her graduate and benefit from the overall collegiate experience.
The Kenosha resident says the Displaced Homemaker program helped her navigate the world of collegiate financial funding and make sure she "had everything, all the tools, to be a successful student." The programs provided her with the structure to help kickstart her college education.
"For displaced homemakers – I would say most of the students I knew were stay-at-home moms who weren't the primary breadwinner – this is a great program to help get you back into the everyday life of going to college," she says.
The program helps all displaced homemakers, male and female.
The Multicultural Program connected her with students of other backgrounds and made her collegiate experience that much more fulfilling, she says. The mother of two says it may have been harder to connect with other students without the peer connections made through the program and its many events held throughout the academic year.
However, it was working with Multicultural Program coordinator Janet Days on progress grade reports for her classes that benefited her most, Hiliary says. Janet would offer encouragement and ways to help focus on key courses, if needed.
"That helped me to be aware of my grades so I could talk to my instructor on areas of improvement while there was still time in the semester to do so," says Hiliary.
Janet Days says she established this dimension of the program as a way to provide feedback and to prompt a dialogue between students and instructors.
"It helped to motivate students through the semester – and beyond," says Janet.