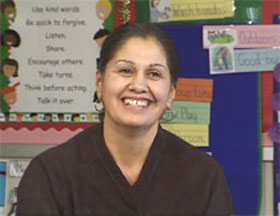 There's nothing more important than helping pre-schoolers build a strong foundation for their future education, and that's just what Erlinda Garcia is doing.
She's a teacher in the Head Start Program operated by Racine-Kenosha Community Action, working to get youngsters ready for kindergarten. She's putting to use the Associate Degree in Early Childhood Education that she earned recently at Gateway Technical College, Racine Campus.
Erlinda had started working at Head Start before enrolling at Gateway, and in retrospect, admits that she felt a bit at a disadvantage. But as she started taking classes, she began to understand how children learn and what approaches work best.
Erlinda worked while attending Gateway, and the school's convenient location in Racine and its evening and Saturday classes were critical to her success.
She describes with excitement the Gateway training that she now puts to use every day, from developing age-appropriate activities for the 3-, 4-, and 5-year-olds in the program, to working with children who have disabilities.
"We give each child lots of love and praise, and we really listen to them. We guide rather than do things for the child, such as art projects. And we encourage a spirit of self-help."
"I also have learned how to communicate with parents," says Erlinda, so that children can practice at home the things they learn in school. "Every parent and family situation is different," she says.
"We have the children for eight hours a day," Erlinda points out, "and that also gives us the opportunity to help them develop social skills – sharing, behaving well in a group, taking responsibility for their own area and materials."
"But we have fun, too! It's also important to have a good sense of humor and playfulness," she says. "I always try to get down to their eye-level, and I always sing and dance along with them!" says Erlinda.
"Gateway really taught me a lot about how to be an effective teacher," she says.