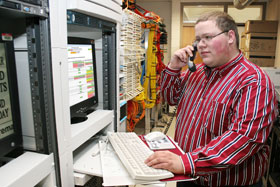 Many point to Gateway Technical College's flexibility in meeting student needs as one of its greatest assets – but Eric Haskins takes that to another level.
Eric earned two degrees within three years – the Information Technology degrees of Computer Support and Network Specialist. He continues to work on a contract basis for companies he interned at while a student at the college, turning unpaid opportunities into paid consulting work. He hopes to continue on this path to opening his own business in the near future.
In addition to the flexibility of being able to begin his career early, Eric also kickstarted a four-year college degree by transferring more than a year's worth of credits to the Milwaukee School of Engineering, where he is pursuing a degree in MIS and is expected to graduate in February 2013.
But Eric has one more reason to call Gateway flexible in working with its students to give them the skills to enter the workforce or continue their education – the college provided the avenue for Eric to do all this before he was 18.
"Gateway was amazingly flexible," says Eric. "They allowed me to work this through a somewhat different approach and it worked. It's great."
Eric, a homeschooled student living in Elkhorn, enrolled at 14 to pursue his interest in computer and information technology. Eric's family checked with other colleges, too, but Eric says Gateway was the only one willing to provide the framework for success in the program he sought. "Others were less open to this setup," says Eric of the ability to enroll at such a young age.
Through his training, Eric gained a solid foundation for his career. He points to two areas in particular which he benefited from more than others – internships he landed through Gateway, and the industry-savvy instructors at the college. Those instructors gave him the skills to enter the workforce and connected him to the industry and internships which would further pave the way for a career.
"They were real projects in a real environment – not fake problems and fake issues, solving it in a fake way in a classroom," he says.
Eric says Gateway's affordability and quality programs were the final selling point for he and his family. "Gateway's cost was more reasonable than a private high school – and the quality training and education you receive make it even more so," says Eric.