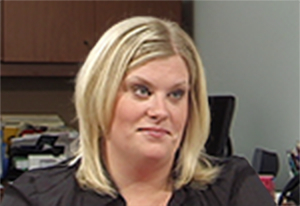 When you think about a career in health care, what comes to mind? Helping a patient recover from surgery? Analyzing a lab specimen? Operating a high-tech X-ray machine? All are excellent career options, but don't limit your thinking. There are other rewarding and important careers in the health field that are less directly "medical." Just ask Donna Feest.
Donna had an early interest in marketing, and she pursued that interest to earn her associate degree in Marketing from Gateway. She now puts that degree to work at Essential Patient Recruitment (EPR) in northern Illinois . The company helps pharmaceutical companies recruit participants for clinical trials of new drugs and treatment programs.
As EPR's Manager of Patient Recruitment and Urology Studies, she gets to help people with health problems while also using her creativity. "I oversee advertising and community outreach," she says, "writing radio, print, and television ads and designing brochures, flyers and posters to interest patients in our programs."
Her Gateway degree opened the door at EPR, but her "hands-on" experience in an extracurricular program for Gateway marketing students put an extra sparkle on her resume. It's called DECA, an international association of students and teachers of marketing, management and entrepreneurship.
EPR was impressed when Donna showed them several DECA marketing projects and described her participation in DECA's statewide and national competitions. "DECA really helped to build my confidence, and it was a great way to network with 'real-world' marketing experts," she says.
Donna also praises the real-world perspective of her Gateway instructors. "They kept us up to date on what employers want and on trends in marketing," she says. Just as important, she notes, they were flexible and understanding as she worked about 25 hours a week, took 15 credit-hours, and participated in DECA and GMMA.
"For any student looking for hands-on training with instructors who are eager to help with coursework as well as transition to a career," says Donna, "Gateway is a great option."