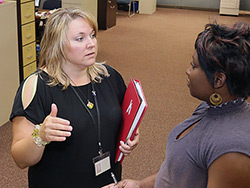 Debbie Schwandt was presented with the opportunity to climb the management ladder. She looked to Gateway to make sure that climb was successful.
Debbie earned her Supervisory Management degree in Spring 2012 and oversees a staff as an economic support supervisor for Kenosha County. She points to Gateway as providing the resources and training to help her flourish as a manager – as well as provide confidence those skills will transfer to any possible future position.
"Gateway gave me everything I needed to succeed at my job," says Debbie. "It's been a great and fulfilling experience. I have a sense of security now that I've earned my degree."
Debbie says her direct supervisor encouraged her to enroll at Gateway, telling her the college has much to offer its students and she would benefit from the education. "I did benefit. In addition, Gateway also seemed the most feasible with my schedule, and affordable."
Debbie says the accelerated learning component of the program allowed her to work at her new management role while she attended Gateway, an important component for this single mother. "I would not have been able to commit to the traditional, four-year college schedule," she says.
Debbie says while she had 20 years of work experience, she gained much more training and management principles from Gateway instructors than she had first believed possible.
"They had that real-world experience and not only taught you the concept, but also showed you how to apply it in different ways," she says. Debbie says she benefited immediately from her training by being able to apply what she learned in the classroom at her new supervisory job.
"I would learn it in the classroom one day, and apply it the next. I knew what the best practices were because I learned them and applied them immediately. It wasn't by trial and error. I knew because I was trained to do it the right way."