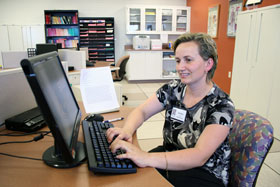 In 10 years, Danijela Pozder transformed her life from being unable to speak a word of English to earning a Gateway Technical College degree.
It's not just any degree – it's one where Danijela has mastered some of the most complicated words in the English language as an essential part of her career in health information technology.
Much like her decision to move from war-torn Croatia was aimed at upgrading her life, Danijela enrolled at Gateway to continue to increase the quality of life for herself and her family. She says Gateway provided the means for her to reach that goal by delivering English language skills, training and real-world education to quickly land a position at Kenosha hospital shortly after earning her Health Information Technology associate degree.
"Gateway changed my life right away. I found a job, which increased my wages and benefits. Also, I want to continue my education and earn a four-year degree, and my Gateway degree will help me to do that," says Danijela.
"I wanted a better life for my family, especially my children."
Gateway began providing Danijela what she needed through its English as a Second Language – now called English Language Learner -- program.
"I remember that first day, I couldn't say a word of English," she says. "After a couple of years, I could speak and write English and do so many more things. They have a great ELL program."
She says Gateway's flexible course scheduling provided her with the ability to tailor her work and course schedule so she could engage in career training while continuing to work and be with her family.
"I started at Gateway because I was able to arrange my schedule with my work and my family – it all worked out great," she says.
She also credits knowledgeable and caring instructors taking the time to help her as another example of the college's quality education.
"I especially liked the small classroom sizes," she said. "I was able to interact with my instructors and they were there to answer any questions. They had more time to interact with me and other students. I like everything about Gateway -- it was good to me."
"Instructors brought real-world experience into the classroom and encouraged hands-on learning which prepared me well for my career as a health information technician."