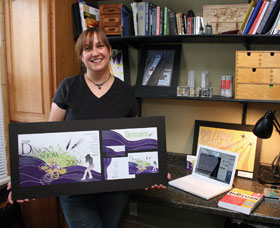 Anna Bauer says Gateway's flexible scheduling options, industry-savvy instructors, solid focus on job training and mixture of younger and older students gave her the opportunity and skills to enter a career in Graphic Communications.
"I feel Gateway is tailored to giving students the training and skills, to get a job once they graduate – which was my ultimate goal," says Anna. "It's all very well following your passion and bliss, but at the end of it all, you need to have a career. Gateway was very good at keeping you focused on achieving that."
Anna currently works as a graphic designer for the Kenosha News.
Anna's Gateway journey came after choosing to leave the workforce for eight years to be a stay-at-home mom for her two children. After those eight years, some part-time jobs in-between, and her children now in school, Anna decided to return to the workforce.
"I started looking at my education options, and Gateway clearly was the most feasible and flexible for someone in my situation," says Anna.
Anna began looking at the course curriculum sheets which outline each of Gateway's more than 65 career options. "When I read about Graphic Communications, I realized it was my future."
Anna was employed and starting her career before her graduation from Gateway.
"During that time, I could apply at my job what was taught in the classroom. Instructors were telling you exactly how it was in the working world.
"My courses began to click with me immediately. Fortunately, I had the opportunity to find something I love doing, rather than just having a job."