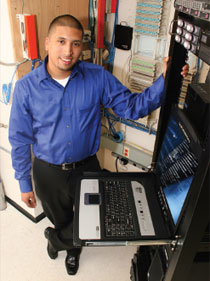 Ajay Gomez says connections he made with industry professionals through Gateway opened doors for him to land a job five months before his December graduation.
Gateway instructors provide opportunities for students to attend business conferences and meetings where they network with industry professionals, potential colleagues and employers – which is where Ajay met the person who would later become his boss.
"One of the professionals I met was looking to hire for some job openings," says Ajay."After talking to me for a while, I was able to land an interview with him – which later led to a job."
The Racine resident served as president of the Gateway Association for Information Technology Professionals (AITP) club, which further provided him ways to meet and interact with industry professionals at student competitions and conferences.
"I attended a lot of seminars and learned a lot about my field before I entered it," says Ajay."I attended two national conferences and I got a good taste of what was expected in the real working world."
Ajay's Gateway training led him to enter an industry where he's increased his earning power by more than a third with room for advancement in his future. He loves going to work every day and believes his job as a computer programmer with an IBM-i emphasis is one that should be solid despite the soft economy.
"Gateway prepared me well for my job – I haven't been faced with anything yet that I am unable to do," says Ajay."I really do think this job is recession proof. Business must have computers to work, and they depend on programmers to work every day."
Part of that preparation was hands-on training in the IBM-i power system, using IBM-i operating systems – training that is offered at few colleges in the state. "I'm glad that the instructors at Gateway got me into IBM-i, it was the first time I'd heard about it," says Ajay."It's a great environment to work in, and there's a lot of job security that goes along with it. There are few colleges teaching it, but there are a lot of companies that use it – and there are a lot of professionals over the age of 50 who are eyeing retirement."
Ajay was introduced to Gateway when he earned his GED at the college after leaving high school at age 16 to work full-time to support his son, but he always knew he wanted to return and earn a degree.
"I know some people who got their GEDs and didn't want to come back to school," says Ajay."I always did. My kids heavily motivated me to go to college. Going to a job every day that I hated helped me to focus even more on training for a new career.
"Having the opportunity to connect with Gateway through my GED made me believe in myself – that I could return to earn my degree."
Ajay says he chose the IT - Software Developer program because he enjoyed working with computers "and loves problem solving – and that is what this is about, problem solving."