Established in 1966, Business Professionals of America (also referred to as BPA) is the leading Career and Technical Student Organization in the United States.  Through competitions, conferences and camaraderie, Business Professionals of America, provides students with the opportunity to exercise real-world business skills in a variety of settings.  With 23 participating states, Business Professionals of America prepares today's students to be tomorrow's business professionals.
Fall Semester Meetings:
Meetings will take place on the following Mondays from 11:00 a.m. – 12:15 p.m. in Room E229.
September 16, 2013
October 21, 2013
November 18, 2013
December 9, 2013
Fall Semester Happenings
Field Trip – Chicago, IL
Tour Willis Tower and the Federal Reserve Building, and visit the historic Rookery in downtown Chicago, IL.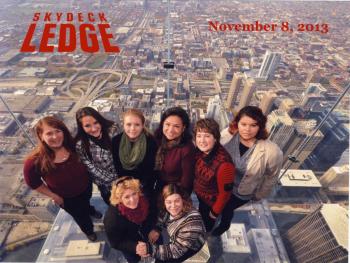 Community Service
School supply drive: School supply drive benefitted those in need in Walworth County.
Holiday Wishes for Heroes: BPA members collected signatures for a holiday greeting card to our military personnel.  Table with greeting cards displayed in the North Building Atrium.
Smitten for Mittens:  Collection of hats and  to be given to the Walworth County Resource Center.
Fundraising
Beef Stick Sale: Club members sell beef sticks in a variety of flavors that can be found in rooms E222, S224 and 101. 
Snowflakes and Peppermints Craft and Vendor Sale: December 7, 2013 9a-1p – South Building, Room 112 and Student Commons area. Free admission – Raffles – Food Sale items
Upcoming Conferences
State Leadership Conference – Green Bay, WI  February 20 – 23, 2014
National Leadership Conference – Indianapolis, IN   April 30 – May 4, 2014
For more information contact an advisor:
Anna Konkel   konkela@gtc.edu    262.741.8376
Tina Page        paget@gtc.edu       262.741.8326
Join Business Professional of America (BPA) - Elkhorn Blackboard Community
Here's how:
1.Log into your Gateway Blackboard
2.Click on the Community Tab
3.In the "Organization Search" Box, type in "BPA" and chose the Elkhorn chapter
4.You will then be able to click on Business Professional of America (BPA) - Elkhorn  and self-enroll
5.Go to your main Blackboard page, scroll down, on your right you will see Business Professional of America (BPA) - Elkhorn under the heading "My Organizations".
On the Business Professional of America (BPA) - Elkhorn Blackboard you will find information about meetings as well as other important information about our club.
Come be a part of the BPA-Elkhorn family!