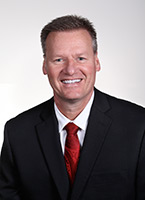 Dr. Bryan D. Albrecht
President, Gateway Technical College
For more than 100 years Gateway has been a part of our communities, educating students to successfully enter family-supporting careers and providing area industry with a well-trained workforce to help them thrive and grow.
Since 2006, when I first joined your community as president of Gateway Technical College, the college has grown more than 30 percent. Why? To meet the needs of a growing student population base, unemployed or underemployed workers seeking training to increase their careers and income and employers needing skilled workers. We recently increased our services again. We added a weekend college and expanded evening courses, meeting the needs of students who must work while they earn their degree or stay-at-home parents seeking to increase their livelihood.
"As industry and the economy change, so do the needs of our programs and community partners."
As industry and the economy change, so do the needs of our programs and community partners. Students need access to increased technology and facilities mirroring what they will face on the job, and expanded career training options to diversify their career options to find a family-supporting job. By the time they graduate, they will need to possess high technical knowledge, real-work experience integrated with employability skills, and complex, problem-solving skills which strengthen the technical skills and improve job performance. All of these changes have been added to our curriculum and training to result in improving the services we provide.
As proud as I am of all we have accomplished, it would be unwise to rest on our past. We must always have a vision for the future just as our community has challenged us to do over the last century. As we look to the future, we are poised to grow or expand the strengths we've built in Racine and Kenosha counties to Walworth County. At our Elkhorn Campus, we would do that by adding new programs in Culinary, Cosmetology and Veterinary Science as well as expand manufacturing programs such as Welding, Automated Manufacturing and Computer Numerical Control through expanded and remodeled labs.
Kenosha County is also seeing great change. The Kenosha Campus serves more than 7,000 students, as well as the community at large. With the large volume of service this campus provides, there is a need to improve and expand student support services to better meet the needs of our students as they enroll in their courses, seek career guidance, financial aid advice and engage in tutoring, testing and other tailored learning services. We also would add a new Fresh Water Resources lab on our Racine Campus.
While we serve the needs of our business partners well, it is sometimes overlooked that we are the region's provider of public safety officers, firefighters and emergency medical service technicians. Supporting a safe community is at the core of our proposed Public Safety Training Center in the center of our district. A new facility would allow us to offer expanded and state-of-the-art training to students as well as professional training to all emergency service workers, which is more than just professional development - many times, it is training required by state law.
By working together, I am confident we will position Gateway to serve the diverse needs of every community in the tri-county region in a way that strengthens job and career opportunities for generations. The proposed changes will increase our ability to serve you better and make our communities safer.