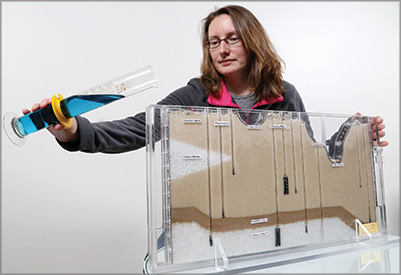 New lab would support revamped Fresh Water degree
A proposed new Fresh Water Resources lab on the Racine Campus will provide students with hands-on training on equipment used in the industry today and equip them with the skills to begin their careers quickly.
Gateway instructor Mike Schuck says the lack of running water in the current teaching areas limit the equipment and teaching methods that can be used. The lab would provide students and instructors running water and the ability to perform water quality lab tests and work with equipment used in the industry today.
The hands-on lab would be located in vacated and remodeled space in the Technical building. Schuck says companies and municipalities in Gateway's district are seeking – and have family-sustaining job openings for – graduates with the skills this program provides.
"Employers want workers with the technician skills we teach," he said.
"Employers want workers with the technician skills we teach."
Mike Schuck, Gateway instructor
Generally speaking, the revamped program provides training for wastewater and water treatment as well as water sustainability processes that will help ensure that everyone will continue to enjoy the benefits of clean and safe water.
Graduates could choose to become state certified to work in a number of different water treatment plants, including incoming water and wastewater treatment. They would also be able to enter private industry for more advanced, but specific, wastewater and water treatment plant operations, including water sustainability measures.
"They would be able to work in water treatment and wastewater treatment plants in municipalities. We also train them for a variety of needs in private industry, which is less limited, such as environmental water treatment, reusing cooling water from industry, wastewater from industry. There are many different applications," says Schuck.
A portion of the Racine Campus would also be remodeled to instructor offices which are in need of updating.