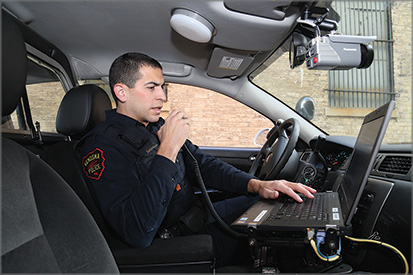 Area communities, residents would benefit from standalone public safety facility
A proposed Public Safety Training Center would provide new and enhanced training opportunities to the three-county area for veteran law enforcement officers, corrections, fire and EMS workers in area communities as well as students entering these career study areas.
This would allow these professionals to train in a more realistic setting, providing them with the means to better face actual emergencies in the communities they protect and serve. The center would be a hub for training students through the Gateway Law Enforcement Academy - most of whom are then employed at departments in the three-county Gateway district – as well as expanded specialty training for law enforcement agencies and working officers from area towns and cities.
Quality skill training in all skills needed to keep communities safe
The center would provide for expanded scenario training through buildings in a simulated neighborhood, as well as a dedicated emergency vehicle operation course (EVOC). The course would offer a training ground for police, fire and EMS workers in area departments to train on driving their vehicles in the stressful situations which surround an emergency.
Law Enforcement Academy Coordinator Joe Whiten said Gateway currently uses wide open parking lots at a former dog track. While it is workable, there still exists a need for a course built for, and suited to, training safely at higher speeds. There is a demand for this training, too - not only would Gateway students use it, but professional law enforcement officers are required, by law, to receive four hours of pursuit training on a biennial basis.
"EVOC, pursuit driving and PIT maneuver training all require a large, unobstructed paved area," says Whiten. "Obtaining a viable driving area which meets the needs of all the training areas is, unquestionably, the most pressing need for all three programs."
"There is some training we can't do now simply because we don't have the room to do it in."
Gateway Law Enforcement Academy coordinator
A firing range at the new center would also replace the four-lane shooting range in the basement of the Kenosha Campus. Again, academy students as well as working professionals would use this range - many local departments require their officers to train and meet standards several times yearly. This would meet the needs of those officers.
Finally, Whiten says the expanded area of a new center would help alleviate the crowding that sometimes occurs when recruits need to use space on the Kenosha Campus. A greater demand exists for professional development and required training than Gateway can currently accommodate.
"There is some training we can't do now simply because we don't have the room to do it in," says Whiten.
Training for the realities of today's world
Combined response training is one area of training Gateway currently has trouble accommodating. Gateway Fire Protection Program Coordinator John Dahms says the new center would add areas for his students to train and participate in different simulated emergencies, making them more efficient when they are in the field and working with their community departments. He says, though, the value of the center is that it could replicate an actual emergency in a much more complete manner than if police, fire and EMS trained separately.
"Much of our industry is moving toward providing scenario-based environments. What's that old sports saying, that you perform the way you practice? We want them to practice on these scenarios so when they 'perform' or begin their career in the real world, they will be more highly skilled technicians."
Finally, rooms at the center could also allow space for general studies and other courses needed by all Gateway students inside, and outside of, the emergency occupations courses.