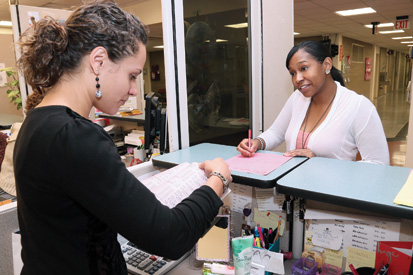 Kenosha Campus' Student Services Center expansion would provide better student access
An expanded and remodeled Student Services Center on the Kenosha Campus would provide for a more efficient means for students to gain access to a wide variety of services they need to enroll and plan their college journey. It will also bring all the student success resource programs into one area.
"Students can go to any campus and expect to receive the same service, access to privacy, and technology."
Stacy Riley, dean of Enrollment Services
Nearly all of the 25,000 students annually who enroll at Gateway will use a Student Services Center at some point in their college career. Whether it's initially to enroll, to gain access to financial aid or meet with academic advisors on their academic plan and progression through their program, many Gateway students visit this area on their home campus.
Remodeling would provide appropriate space and updated technology. Gateway instituted a new, more student-focused student success model and the new facility would enhance its implementation and ensure students fully benefit from it. This project would also bring the Kenosha Campus Student Services Center to the same level as the Racine Campus and Elkhorn Campus, both of which were updated in the past year.
"This will allow us to be consistent across all three campuses," says Gateway Dean of Enrollment Services Stacy Riley. "Students can go to any campus and expect to receive the same service, access to privacy, and technology."
The remodeled and slightly expanded area in Kenosha would provide students with more efficient access to services such as admission, financial aid, academic advising, registration and other student success resource programs.
Reconfigured space would also provide a more confidential and private area for Gateway staff and students to interact as they enroll and seek services or other counseling direction.
"This would allow any student to be able to meet with a staff member and expect there to be an area where they can confidentially discuss their career and life goals," says Riley.
Learning success services would be housed in the new area, bringing them all into the same place, rather than spread out across the campus. This would help students to efficiently find and engage in those needed services - such as GED preparation, testing, English Language Learners and disability services - which would be in one area and larger than the sum of all the space used now.
"This would also allow for new tests to be delivered in that space," says Riley. "The demands have grown on our testing and learning services through an increased number of students, and the space would help us meet those needs."
Finally, the remodel work would allow for an expanded bookstore which would better serve students, especially during the busy times of the year at the beginning and end of the college's three semesters.