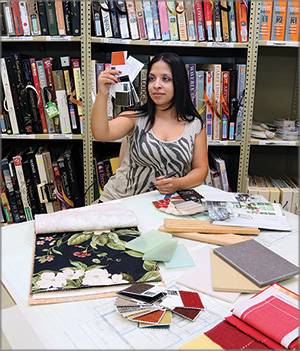 Remodeling to provide industry-specific space for Interior Design, Barbering
A portion of the Kenosha Campus remodeling effort would repurpose space in the Technical building for a more career-appropriate new lab for the college's Interior Design program. Currently, the program is housed in a few separate classrooms in different parts of a building. The new lab area would concentrate Interior Design instruction in one appropriately constructed area, allowing students to see the integration of all parts aspects of their future career as they progress through the program.
A new Barbering lab would also be added to the Kenosha Campus. State officials recently changed the requirements for obtaining cosmetologist and barbering licenses; students can earn a barbering license and then build upon that by continuing their training to obtain a cosmetologist degree.
College officials looked at all campuses shortly after the state made the changes to see whether the programs could be expanded in addition to the Racine Campus. They plan to expand the Barbering diploma program to Kenosha Campus. Gateway officials determined there are job openings for graduates of this diploma program in Kenosha and Walworth counties.