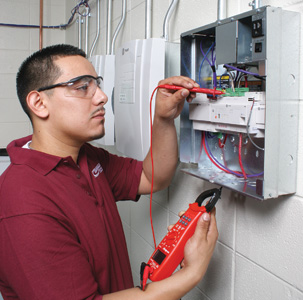 New equipment would save taxpayer dollars
Heating and cooling upgrades and efficiencies, coupled with repurposing space to provide needed educational program labs are the focused needs driving a portion of the referendum proposal on the Kenosha Campus.
Heating and cooling systems would be replaced – many of which are more than 40 years old – before they fail and cause worse issues. It would also make those units more cost efficient to operate and provide a better indoor environment for students and staff. College officials estimate about $100,000 annually could be saved through use of more efficient systems.
Automated building controls would be installed, which also helps heating and cooling systems run more efficiently and would save money. New interior lighting would be installed, which would save the college money in the long run, while outdoor lighting installed near sidewalks makes the campus safer.
Sidewalks and other outdoor campus features don't consistently provide appropriate lighting, so this would give the campus needed lighting within an overall lighting plan.
Finally, the project would add space to the Administration Center, located on the Kenosha Campus, for consolidation of district services in a central location.