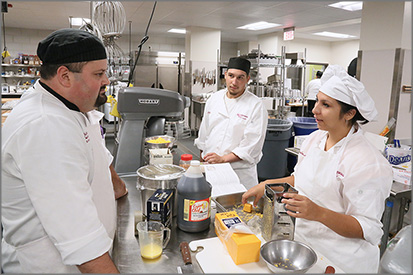 Expansion, renovation provides added training opportunities for students
An expanded and renovated Elkhorn Campus would improve its capability to deliver in-demand career education to Walworth County students and offer new and updated training labs for jobs in demand in Walworth County.
Original building needs makeover
The proposal calls for the original steel building area of the campus - now the South Building - to be torn down and rebuilt.
"An engineering study was done, and it said that it would be more expensive to renovate and retrofit that area rather than just razing it and building it new," said Larry Paruskiewicz, Elkhorn Campus facilities manager.
Industry: Vet Tech training, lab needed
Walworth County industry officials have asked Gateway to initiate a Veterinary Technician program - and this proposal would create a specified lab for that program, the first in the Gateway district.
Cosmetology lab expands degree options to Elkhorn
State officials recently changed the requirements for obtaining cosmetology and barbering licenses; students can earn a barbering license and then build upon that and continue their training to obtain a cosmetologist degree.
College officials looked at all campuses shortly after the state made the changes to see whether the programs could be expanded outside of Racine. They plan to expand the Barbering diploma to the Kenosha Campus, but believe that the need exists in Walworth County for trained cosmetologists, so a new lab will be constructed at the Elkhorn Campus. Students now have to drive to Racine to complete their Cosmetology program requirements.
Culinary Arts working kitchen, real-world training
Space would be added to help meet area business needs for trained food service industry workers in Walworth County, says Service Occupations Dean Terry Simmons. The current Elkhorn Campus commons area would be remodeled and reconfigured to provide for a working kitchen staffed by Gateway Culinary Arts students to train in a real-world setting, in the same way that the kitchen is currently staffed on the Racine Campus.
Culinary Arts courses are currently not held on the Elkhorn Campus, only on the Racine Campus. However, many students are from Walworth County and this would allow them to take courses closer to home and allow for a greater number of students to enroll in the program who are now unable to commute to Racine.
Job openings drive CNC, Welding and Automated Manufacturing lab updates
An increasing number of job openings in Walworth County manufacturers in these three areas have prompted Gateway officials to consider renovating and expanding the Elkhorn Campus lab areas. Students also now have to drive to the Racine Campus for some of their core classes, so the expanded lab would allow them to take all of their courses closer to home.
Industry and area manufacturers continue to need skilled workers for their companies, and the expansion of these labs will provide students with the ability to train on equipment used in today's workplace, as well as provide a means for more students to train and enter the workforce.