Event Date:
Monday, September 11, 2017 (All day)

to

Friday, September 15, 2017 (All day)
As Harry Potter and his friends prepare for a new school year at Hogwarts, they stopped by Gateway to share the wizarding sport Quidditch with us muggles. Alas, in all the excitement, a trunk of magical golden snitches was knocked over and flew away to hide all over Gateway!
From Monday, September 11 through Friday, September 15, hunt for golden snitches (golden pingpong balls) at Gateway's three main campuses and the Burlington, Horizon and iMET Centers. Your reward for capturing a golden snitch is your choice of Harry Potter plush!
Winners must redeem golden snitches on campus by September 22.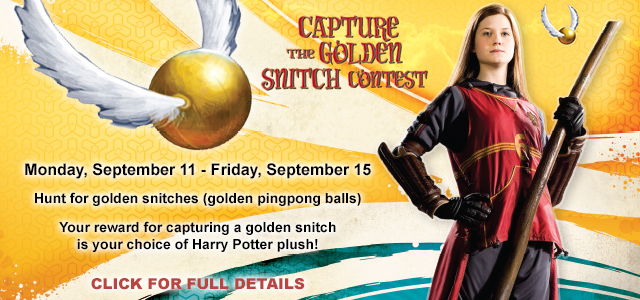 ---
Gateway Technical College is committed to providing access and equal opportunity for all. Reasonable accommodation are provided for all services, programs, activities, education, and employment for individuals with disabilities. To request an accommodation, please contact Beth Mulhollon ten days in advance at 262-619-6478 or email mulhollone@gtc.edu
Location:
Gateway Campuses and Centers
Read more about this event: